The Portland Trail Blazers are reportedly considering shutting down Brandon Roy. Should they? Posted by Ben Golliver.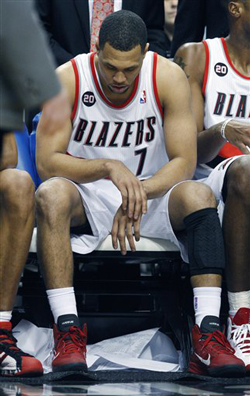 The 2010 version of Portland Trail Blazers guard Brandon Roy is a far cry from the 2008 and 2009 versions, and it's throwing Roy, his franchise and the Portland fanbase for a loop. Expectations have been re-calibrated, dreams have been deferred and apprehension has mounted. With
word coming from CBSSports.com's Ken Berger
on Wednesday that all options are on the table for Roy -- including potentially shutting down his 2010-2011 NBA season before the All-Star break -- what's the right course of action here? There are a number of factors weighing on, and complicating, this decision. Let's look at what's best for all parties.
The Team
Roy has been ineffective and inefficient on offense, and a total liability on defense this season. His game has always been of the ball-stopping variety: when he's playing, the offense slows down, the Blazers run more isolation plays and Roy takes a ton of shots. Given his decreased quickness off the dribble, Roy is settling for tougher shots and making less of them this season. That fact has dragged Portland's offensive efficiency down in a meaningful way and has forced Blazers coach Nate McMillan to re-think Roy's role when he is out there. In Roy's absence over the last two weeks, power forward
LaMarcus Aldridge
has seen an increase in touches and has delivered well. Guard
Wesley Matthews
, Roy's replacement in the starting lineup, has also seen his numbers spike up, and reserve guard
Rudy Fernandez
has flourished, to a degree, now that he's been given the playing time he's long desired. The Blazers as a whole have played more energetically and less passively in Roy's absence, as the team's younger players tended to defer to Roy and stand around watching and waiting for him to make something happen. Still, the Blazers would be better off with Roy than without Roy, but the nature of his role as a starting two guard and primary scorer simply isn't sustainable, unless he has made significant progress in terms of his mobility during his weeks off. If Roy was available to play in short spurts and was comfortable playing off the ball, his shot-making and play-making abilities are of value. He could still be a positive this season, even in a limited capacity.
Brandon Roy
Despite concerns surrounding his health, Roy no doubt wants to play. He's a fierce competitor and has grown accustomed to being treated as the 3-time All-Star that he is. Shutting down the rest of this season, combined with a potential lockout, could mean years away from the game during what was theoretically supposed to be the beginning of his prime. That's no easy decision for a player to swallow. Sorting through the mental demons of playing in a limited state is going to be easier for Roy if he's able to play than if he simply steps away from the game. Shutting it down would really be Roy's last resort, the product of a medical diagnosis that he simply couldn't avoid.
The Organization
The Blazers have officially fallen short of their goal of competing for a title with Roy, Aldridge and center
Greg Oden
as their primary nucleus, and are reportedly deciding whether they should enter a rebuilding phase. The team's ceiling this season is the No. 8 seed and virtual certain elimination in the first round of the playoffs; their basement is the No. 10 or No. 11 seed and a trip to the draft lottery. Roy is essentially untradeable given his health and the fact that he's in the the first year of a 5-year $80+ million contract, so the Blazers are stuck with him for the time being. If Roy is able to contribute meaningfully, the Blazers would love to have him on the court for his superstar appeal and ability to sell tickets. He hasn't been able to do that this season, however, and his absence has allowed new general manager Rich Cho additional time and space to assess the rest of his roster's pieces. Young players with untapped potential, such as Matthews and
Nicolas Batum
, can certainly use the extra playing time created by Roy's absence. If a rebuild is in the cards, the team could do a lot worse than making Aldridge, Matthews and Batum their temporary centerpieces, at least until a clearer picture of Oden and Roy's future effectiveness emerges. More minute and touches for the younger guys now means more confidence and reliable production down the road. The organization would like a productive Roy, but shouldn't let an unproductive Roy stand in the way of the development of younger, potential future core pieces.
Conclusion
Shutting down Roy isn't nearly as catastrophic an option as it might appear at first glance, given the team's record, the state of the organization and Roy's on-court ineffectiveness. The 2010-2011 Blazers are almost certainly going to be hovering around average, whether Roy plays down the stretch or not. Given that fact, there's really no reason to rush a decision, unless medical opinion has swayed hard against Roy's ability to play through his ongoing knee pain. If no definitive conclusion has been reached about Roy's knees, there's nothing wrong with continuing to monitor and re-evaluate Roy on a week-to-week basis, assuming he is on board with that. Treading carefully is of utmost importance here, given that a decision to shut down Roy will have major implications on and off the court for years to come.