Rudy Gay is quietly having the kind of season you want your emerging star to have, breaking out not in any one area, but improving in every facet of the game.
Posted by Matt Moore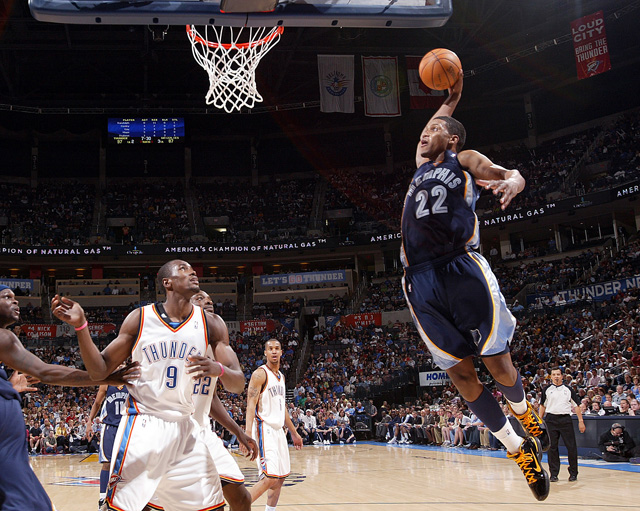 It's almost a new year, so perhaps it's time to inform you in case you haven't heard. It's also a new Rudy Gay.
After signing his five-year, $80 million extension with the Memphis
Grizzlies
this summer, most wondered if Gay was in any way worth that kind of investment. How could he be? From every measurable standard, he was below star-level. Points, rebounds, efficiency, wins, playoff appearances, the works. Though the Grizzlies showed signs of life last season, they faded down the stretch. Would Gay really improve in the necessary ways to justify that contract and the Grizzlies' future investment in him?
Turns out, he's on his way. And where he is now and where he's headed is a long way from where he started, in Baltimore, Maryland.
*
It's Christmas time in Memphis, and for once, it feels like it. There's a significant chill in the air on Christmas Eve as the Grizzlies wrap up practice at FedEx Forum. Later it will snow through the night, though of course the warm Tennessee ground won't hold anything but the slightest layer of white. Still, it's got to make the Grizzlies from colder climates even more homesick at Christmas. They've got a game the night after Christmas in Indiana, their flight departing Christmas Day, so there's no time to get to their respective homes. They'll spend Christmas in Memphis, before hopping on a plane for a hotel as they try and get off their losing streak.
For Gay, missing Christmas is just part of the job. He says that with video chat and all the technology, it's almost like being there. And "there" means quite a bit to him. Baltimore is notorious in the NBA for two things: being tough and producing ball players. Players talk about Baltimore carefully, trying to manage how tough the environment is with their pride of the system they came out of. For Gay, he has a clear feeling of solidarity with the many players that come out of Charm City.
"The best feeling about being in the NBA is going back to Baltimore," Gay says. "It's a basketball city. There are so many guys that come out of there and try and get to this level. For those of us who do, we're thankful, and we try and stick together."
Part of the tradition of basketball in Baltimore is the AAU Teams. The AAU circuit in Baltimore is as strong as it is anywhere in the country, and its products have filled the NBA ranks. The teams also come under scrutiny,
as was the case
in fellow Baltimore native
Carmelo Anthony
's Team Melo personnel's involvement with Josh Selby. For Gay, though, AAU was nothing but a positive experience, and he credits the AAU programs in Baltimore for helping kids there stay out of trouble.
As practice wraps up, the Grizzlies huddle up and chant "1-2-3-Merry-Christmas" before heading for the exits and their respective holiday plans. A few elect to hang out on the sidelines. But Gay and
Mike Conley
, the player for Memphis who Gay has played the longest with, remain on the floor, shooting and working, getting in extra time. The Grizzlies need it. They've lost three in a row, including an inexcusable loss to the
Nets
. If ever there was a time for Gay to exert the leadership he's learned as he continues his fifth year in Memphis, now would be it.
It's not that the Grizzlies have been terrible this season. On Christmas Eve, they're only a game back of where they were last year. But last year they depended on a long winning streak after a terrible opening to recover and make it into the playoff picture before fading late. This year they've toppled the
Lakers
, the
Suns
, and the
Mavericks
, but have also lost to the Nets, the
Warriors
and the
Wizards
. It's that kind of inconsistency and playing up or down to their opponent that Gay says is the key to Memphis getting back on track.
"We're just learning how to play consistently every night. We can't play good against good teams and bad against bad teams. I just want to get this team to that level. I can feel it. We're close."
*
Two nights later in Indiana, they certainly look it. The Grizzlies dominate on both sides of the floor and walk out of Indiana with a 104-90 victory. Merry Christmas, indeed. Gay sets the tone with his best performance of the season, one of the best of his career, with 30 points, 8 rebounds, 5 assists, and 5 steals. The vaunted "stat-stuffer" line. The 30 points is nice, but it's been the total efficiency and productivity where Gay has made strides this season. Sunday night's win is just the jewel in the crown of his improvement in 2010.
RG is posting career-highs in points, assists, and steals per game, as well as in advanced numbers like assist, steals, and block percentages, and eFG% (percentage factoring 3-point shooting). In essence, he's a more efficient player than he ever has been. His PER is a career high 18.8. You get the feeling that his near-career-high rebound rate (8.9%) would improve if he needed to, but with
Zach Randolph
and
Marc Gasol
down low, Gay's priorities are in contributing at every level, "in every column" as his coach says. And it's that total effort that Lionel Hollins says best describes Gay's role.
"He needs to utilize his talent, and fill the stat sheet like he has. Some nights it will be scoring, some nights it won't. Those other stat columns have to be filled regardless of whether he goes 11-17 or 6-17. I think when he gets to the level where he has an impact on the game even when he's not scoring a lot, that's his role. When you're talented like that, players can think that the fans and media expect them to score a lot of points. But the best player doesn't always score the most points."
Hollins says Gay is also a key for the defense. RG has posted his lowest defensive rating of his career with a 105 score. Far from elite, but a huge step in the right direction.
"When he's engaged, our whole team is engaged," Hollins says.
*
It's Monday night, and time for a dreaded back-to-back, this time against the Toronto
Raptors
, an up and down team which is missing several key players. Before the game, Gay has that leader swagger going again. He pumps up the music, dances, and raps, but also goes around the room talking to several of the younger players, providing instruction. It's reminiscent of the behavior of another talented stat-stuffing power forward,
LeBron James
, in pre-game activities. It will not be the last time Gay looks the part of a King-James-type that evening.
One player that Gay gives extra attention to his rookie point guard
Greivis Vasquez
. Vasquez attended high school in Maryland and proceeded to attend college at Maryland as well. Gay and Vasquez have what the rookie describes as a "real relationship." Team officials refer to them as "close as any players on the team" and Vasquez credits Gay with taking him under his wing and helping him transition through the rookie process.
Gay does not talk pre-game, but where's the same quiet, confident look he always seems to adorn as he heads for the floor and yet another moderately-attended game in Memphis.
*
The Raptors are up eight as the second period begins. The Grizzlies look lifeless. The Raps are starting
Amir Johnson
and
Joey Dorsey
in the front court due to injuries, and yet they are the team slowing it down and grinding it out in the halfcourt set.
Linas Kleiza
is giving Gay fits as he rises over him to fire long jumpers. But in the second quarter, something clicks.
RG's biggest asset? Detonation into transition. And instead of looking for it off the work of his teammates, Gay is again initiating those opportunities. He bursts out to initiate the break, forces the issue, and the offense is off and running towards a 32-point quarter after only scoring 16 in the opening set. The Raptors manage to hang in until the third, when the Grizzlies get Zach Randolph, who is battling with a cold, back on track. He takes over down low, and Gay snags two steals using that athleticism people have raved about since his days at UCONN. He uses it in conjunction with a learned anticipation, the kind of mental improvement that's made such a difference in his game.
By the time the fourth rolls around, it's all over but the shouting.
With Hollins completely reversing his game plan, going small instead of big, an unforeseen development reveals itself. A lineup hits the floor of
Darrell Arthur
, Marc Gasol,
Tony Allen
,
O.J. Mayo
, and Rudy Gay. Gay plays point guard, initiating the offense and acting as the conduit for O.J. Mayo to break open for some buckets. It's a brief indulgence, but one that Gay says they've been working on in practice.
"Most people who play my position aren't used to guarding a guy running point. It creates mismatches. I enjoy being in that position."
Randolph will get the headlines for taking over in the second half, but it will be Gay who ties his career high for combined assists and steals. He finishes with 18 points, 5 rebounds, 6 assists, 5 steals and 1 block. It's consistent, across the board, and the real foundation for the Grizzlies success. I ask Gay if he thinks the team has turned a corner.
"I do. We learned something from the Nets loss, but these wins are starting to feel different."
Much like Gay's season, which is starting to look every bit the part of what the Grizzlies paid for.
*
Two nights later the Grizzlies will drop a heartbreaker in Sacramento,
losing on a desperation half-court heave
by
Tyreke Evans
. Gay will struggle with 6-17 shooting, just 16 points, 4 rebounds, and 1 assist. The Grizzlies for a night have gone back to playing down to their competition. But Gay's body of work has already shown itself.
It's a new year, and while the Grizzlies' future this year and beyond seems very uncertain, every indication is that Gay has reached that next step. Gay says he's ready, able, and willing to be the star player on a playoff team.
"I always want to be on that stage. I love that stage. My career has shown that I love to be the type of player that's depended on, and I'm going to continue to do that. "