How are the NBA's 30 teams stacking up to pre-season expectations heading into 2011? Posted by Ben Golliver.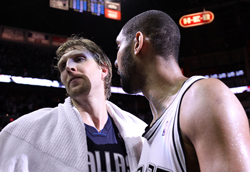 Before the start of every season, the NBA's best statisticians and odds-makers weigh in with predictions for how all 30 teams will fare. The predictions themselves are often forgotten after a month or so, but what they represent -- expectations -- live on with fans throughout the NBA calendar. If a team is expected to win big and falls short, disappointment is unavoidable. If a team was projected to be middling and thrives, excitement knows no bounds. 2010 gives way to 2011 on Saturday, so here are year-end assessments for all thirty teams, based on how they have performed relative to pre-season expectations. To gauge that progress, I combined six projection modes -- including Las Vegas over/unders, Basketball Prospectus's system, John Hollinger's forecasts and multiple Basketball-Reference projection systems -- to create an aggregate projection for each team. I then compared that aggregate projection to a simple extrapolation of each team's progress, to see who was ahead of the curve and who was falling short. Note: Next to each team below is their current record, along with the expected difference between their year-end record and pre-season expectations. For example, if a team was projected to win 41 games and is now on pace to win 46 games, that team is 5 wins ahead of projections.
Exceeding big expectations
The teams in this group were expected to be playoff teams, but have so far outpaced those expectations in a meaningful way.
San Antonio
Spurs
(28-4, 20 wins ahead of projections) -- Not only do the Spurs hold the league's best record, they sit in the top spot for beating expectations, currently on pace to finish a whopping 20 wins ahead of where the experts thought they would be. Last season's injuries and questions about the aging group were causes for concern entering the season, but so far have not yet troubled the San Antonio machine in the slightest. Dallas
Mavericks
(24-7, 16 wins ahead of projections) -- Another veteran group that has defied questions about its age and chemistry to reel off an impressive start. A tweak that caused MVP candidate
Dirk Nowitzki
to miss some time has slowed their pace, but only slightly. Boston
Celtics
(24-6, 15 wins ahead of projections) -- The Celtics came flying out of the gate looking for revenge after falling in the NBA Finals last year, but recent injuries to
Rajon Rondo
and
Kevin Garnett
have pulled them back to Earth ever so slightly. How long Garnett is forced to sit with his leg injury will be a crucial factor in determining whether Boston remains this far ahead of projections. Chicago
Bulls
(20-10, 9 wins ahead of projections) – With so many new parts added via free agency, odds-makers hedged a bit on what Chicago was capable of. So far, despite the loss of
Joakim Noah
,
Derrick Rose
has the Bulls looking poised to make a nice playoff run. Utah
Jazz
(22-11, 9 wins ahead of projections) – The Bulls of the West, if you will. Utah lost
Carlos Boozer
and
Wesley Matthews
and added
Al Jefferson
, and that turnover left people scratching their heads, unsure of what to expect. So far,
Deron Williams
, like Rose, has made sure the winning has continued in Salt Lake. Oklahoma City (22-11, 7 wins ahead of projections) – The early-season storyline, that the young
Thunder
might not be ready yet, has not materialized in full. Instead, the Thunder are on pace to post a big win total number and potentially advance to the second round of the playoffs. Atlanta
Hawks
(21-13, 7 wins ahead of projections) – A new coach, the same old players and improved divisional competition left the prognosticators split on what to expect from the Hawks. So far, the optimists are looking smart thanks in large part to the vastly under-appreciated
Al Horford
. Los Angeles
Lakers
(22-10, 3 wins ahead of projections) – A lull these past few weeks notwithstanding, it wasn't that long ago people were talking about the Lakers as a potential 70-win team. Obviously, that pace would have put them ahead of any pre-season expectations, and their current pace isn't too shabby, either.
Exceeding low expectations
The teams in this group were expected to be average or below-average, and have instead risen above their respective expectations.
New York
Knicks
(18-14, 9 wins ahead of projections) -- The Knicks are arguably the biggest over-achievers in the league, as not much was expected from this group. There's a reason New York feels rejuvenated:
Amar'e Stoudemire
and his band of misfits are way out-playing what people thought they were capable of. Credit guys like
Landry Fields
and
Wilson Chandler
for helping make that happen. Indiana
Pacers
(13-17, 3 wins ahead of projections) – The Pacers were truly awful last season, their lottery selection of
Paul George
didn't make a lot of sense and they dumped
Troy Murphy
during the offseason, so there was plenty of cause for pessimism. Instead, the Pacers have shown solid flashes and have usually been competitive, a step forward that fans surely appreciate even if the team is still below .500. New Orleans
Hornets
(18-14, 3 wins ahead of projections) – There was a litany of reasons to be down on the Hornets early in the fall: a new coach, a new G.M., a rehabilitating superstar, a bungled ownership transition. Instead, New Orleans got out to the hottest start in the league and remains ahead of projections, although things have been rough in recent weeks due to the NBA's ownership takeover and discussion of relocating the franchise.
At or near expectations
The teams in this group are who we thought they would be, or close enough.
Philadelphia
76ers
(13-19, right on projections) – A high lottery team last season, first round pick
Evan Turner
has yet to truly impact games, but Doug Collins has the Sixers on track for mediocrity again anyway. Detroit
Pistons
(11-21, 1 win behind projections) – A disjointed roster split between has-beens and not-yets had predictors down on the Pistons entering the season, and they were right on the money. Toronto
Raptors
(11-20, 1 win behind projections) –
Chris Bosh
's departure for Miami left the statisticians expecting a gruesome year in Toronto, and that's what it's been, although trade acquisition
Jerryd Bayless
has added a spark.
Miami
Heat
(25-9, 1 win behind projections) – After assembling a superstar cast and weathering choppy waters early, the Heat are right on pace for the dominant regular season that was expected. Memphis
Grizzlies
(14-18, 1 win behind projections) – The Grizzlies have been the same "could be good, but it doesn't work out" team for years now. Rinse and repeat again this season. Los Angeles
Clippers
(10-23, 2 wins behind projections) –
Blake Griffin
's arrival has lifted spirits for LA's other team, but they're actually behind where experts thought they would be due to
Baron Davis
's disappointing play and an injury to
Chris Kaman
.
Falling short of big expectations
The teams in this group were expected to be major playoff players and have so far fallen behind what was expected of them.
Orlando
Magic
(21-12, 3 wins behind projections) – Otis Smith blew up his roster in December because it was failing to reach the sky-high expectations established by the last few years of solid play. Will the new-look Magic, with
Gilbert Arenas
,
Hedo Turkoglu
and
Jason Richardson
, be enough to get Orlando back on the winning track? Portland
Trail Blazers
(17-16, 11 wins behind projections) – Portland has disappointed this season more than any would-be playoff team, and it's no surprise why:
Brandon Roy
and
Greg Oden
have been non-factors due to knee injuries. The Blazers will use the next six weeks to assess whether it's time to blow it up and try again. Milwaukee
Bucks
(12-18, 12 wins behind projections) – After a solid showing in last year's playoffs and some development from 2010 Rookie of the Year finalist
Brandon Jennings
, things were on the upswing for the Bucks entering the season. Their goal of competing for the Central Division title hasn't materialized, and Jennings is now sidelined with a foot injury.
Falling short of low expectations
The teams in this group weren't projected to make the playoffs, but have been even worse than that so far in 2010.
Houston
Rockets
(15-16, 3 wins behind projections) – Another scratched year from franchise center Yao Ming has left the Rockets spinning in circles, but they've recovered from a horrendous start to return to the fringes of the Western Conference playoff picture. Minnesota
Timberwolves
(8-25, 5 wins behind projections) – The Timberwolves were expected to be one of the league's worst teams, and they've disappointed even on that count, being completely abysmal.
Kevin Love
excluded. Golden State
Warriors
(12-19, 5 wins behind projections) – Reoccurring ankle injuries to
Stephen Curry
have spoiled a great start for
Monta Ellis
and left Golden State behind their goal of competing for a playoff spot. Washington
Wizards
(8-22, 5 wins behind projections) – Like the Timberwolves, nothing much was expected from the Wizards in what is a full-scale rebuild, but injuries to No. 1 overall pick
John Wall
have reduced the hype train that surrounded the Dougie-ing future superstar during the league's opening weeks. Phoenix
Suns
(13-17, 6 wins behind projections) – After Amar'e Stoudemire departed for the Big Apple, Phoenix was expected to take a step backwards, but instead has taken two steps back. The acquisition of center
Marcin Gortat
was a nice move, but it's hard to imagine that it will be a season-changer, especially because the perpetually disappointing
Vince Carter
is along for the ride now. Sacramento
Kings
(6-23, 14 wins behind projections) – Year two of the
Tyreke Evans
era and the addition of uber-talented big man
DeMarcus Cousins
were supposed to herald progress in Sacramento. Aside from a stupendous Evans buzzer-beater this week, there hasn't been much to cheer for from the worst team in the league. Cleveland
Cavaliers
(8-24, 18 wins behind projections) –
LeBron James
took his talents to South Beach and left a disaster area in his wake. Everyone knew it would be really bad in Cleveland, but it's been even worse. The Cavaliers are currently further behind expectations than any other team in the entire league, by a wide margin.