It's New Year's Eve, here's the leaf NBA teams need to turn over in 2011.
Posted by Matt Moore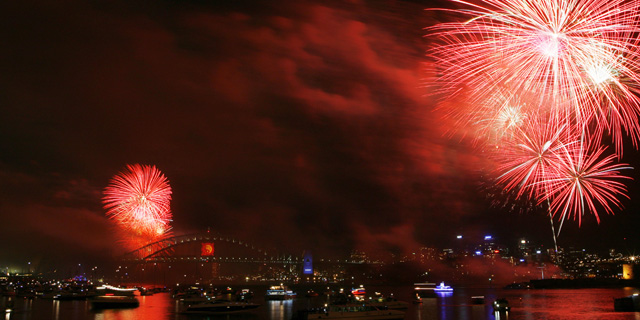 You have to take opportunities to improve yourself. For example, this year, I'm committed to no longer drinking four apple martinis before getting on the treadmill this year. In the spirit of Auld Lang Syne, here are some New Year's resolutions for all 30 NBA teams.
Atlanta Hawks:
Get the ball to
Al Horford
more. Horford is shooting 58% from the field and has the highest PER of any player on the Hawks and yet he has the fifth highest usage. We understand they gave
Joe Johnson
a billion dollars, but maybe Horford needs to get a few more opportunities.
Boston Celtics:
Eat their vitamins. The Celtics have to stay healthy. From all the evidence, there's only one thing that can derail the Celtics. Injury. They have the front court depth to better match the
Lakers
' size should they return to the Finals. But one guy goes down in the Big 4 and there's trouble. Flinstones kids, all.
Charlotte Bobcats:
Get a clean slate under Paul Silas. The Cats are well on their way, 2-0 since Larry Brown stepped down, but the start to this year could not have gone much worse. They need to get out of their heads, and just play. That's the most the franchise can hope for at this point.
Chicago Bulls:
Keep your hands healthy and strong. Seriously, Boozer goes down after slipping on a bag. Noah tears a thumb ligament. Way better than knee injuries, but still. The Bulls have to get their front court to stop banging up their paws. Or hooves. Or whatever. The Bulls have shown they can compete with the East's elite (but not the
Knicks
, apparently) but they need all five fingers on both hands for crying out loud.
Cleveland Cavaliers:
For the fans? It should be to find forgiveness in their hearts, if only for their own well-being. For the Cavs? Trade. Everyone. Blow it up. As much as you can possibly blow it up. Dig up the foundation and throw it out. Sell the very ground it was built on. You've got to sell the kitchen sink, the plumbing.
Dallas Mavericks:
Try to actually live up to your potential in the playoffs for once. Just try it. See if it fits.
Denver Nuggets:
Learn to live with yourself. Which means trading
Carmelo Anthony
and starting over. The way Masai Ujiri is clinging to Melo, he's risking losing Melo, not cleaning out cap space, and failing to get anything in return for Anthony. Face the music, get what you can. And you can't get five picks, for crying out loud.
Detroit Pistons:
Build a time machine and go back to 2007, then do everything differently.
Golden State Warriors:
Self-discipline is a good thing. Maybe take some classes on mental discipline through the martial arts.
Houston Rockets:
Buy more robots. Robots never get injured, you see.
Indiana Pacers:
Take things one game at a time. The Pacers are plagued by terrible inconsistency. Getting back to the most basic of all cliches might actually help them.
Los Angeles Clippers:
Clone
Blake Griffin
. Fifteen times.
Los Angeles Lakers:
Read up on the effects of the aging process. Well, okay, that's mostly just for
Kobe Bryant
, but maybe the rest will learn as well. Celebrate what will likely be their second three-peat within just over a decade.
Memphis Grizzlies:
Start paying people to attend the games.
Miami Heat:
Buy dictionary. Open to "humility." Read. Emulate. The end.
Milwaukee Bucks:
Try and remember when and why you bought into Scott Skiles.
Minnesota Timberwolves:
Do the same thing the Clippers are doing, only with
Kevin Love
. Try not to bury him or anger him this time.
New Jersey Nets:
Spend less time trying to convince stars to come and join them. This team has become the rich kid who tries to pay people to be their friends.
New Orleans Hornets:
Decide whether they're staying in New Orleans or not. This is beyond the scope of the team, but it needs to happen, and that's up to the fans and the NBA. This has to get resolved so the team can stop feeling like it's in limbo. Beyond that, the team needs to resolve to convert
Jarrett Jack
back into
Jerryd Bayless
, because since that trade, everything has been downhill.
New York Knicks:
Commit one way or another. Even though New York is vastly improved and seems primed to compete, they seem to be constantly talking about adding another star. Either the core you have plus or minus a few guys is ready to go, or you need to make a big move to improve yourself (or whatever it is Melo would do for you). Make up your mind and go with it. And for God's sake, don't give up any more picks.
Oklahoma City Thunder:
"Take the next step." The Thunder have to go forward because if you mire in the same relative position, you'll regress. See:
Trail Blazers
, The Portland.
Orlando Magic:
Get out of your heads. The Magic need to stop trying to match up with Boston or beat them at their own game, or about the Miami Heat and their relative hype, or
Dwight Howard
and his relationship with the officials. Just run and gun to the best of their ability and win as much as possible. You can drive yourself nuts with self-analysis. Buy the ticket, take the ride.
Philadelphia 76ers:
Commit to finding a superstar. Hinging your hopes and dreams on
Andre Iguodala
, who is the ultimate supporting player, will not get it done. The Sixers need a star for the fans to rally behind (and maybe buy tickets to see), and they don't have one. That needs to be their biggest objective, starting by determining if
Evan Turner
is ever going to be that player.
Phoenix Suns:
Enjoy
Steve Nash
while you have him. The Suns are pretty much sunk as far as the championship window. Nash isn't the kind to force a trade and may finish his career in Phoenix. The Suns need to enjoy him because once he goes it's back to square one in the Valley of the.... nope, not going to allow that rhyme. Yet another resolution for me. No terrible rhymes.
Portland Trail Blazers:
Find an exorcist. Desperate times call for desperate measures.
Sacramento Kings:
Hire a babysitter. The kids are all out of sorts.
San Antonio Spurs:
Put the coasters on. The Spurs have made their point, bursting out to the league's best record. But they need to save themselves for the playoffs, like they have so many years. It's time to put the coasters on and breeze into the playoffs. Home court advantage is for other teams.
Toronto Raptors:
I have no resolution for Toronto to adapt. 2011 is a lost year. Better luck next year, chaps.
Utah Jazz
: Go on some team retreats. The Jazz still seem to be struggling to stay together and figure one another out. Besides, how funny would it be to see Jerry Sloan trying to roast s'mores?
Washington Wizards:
John Wall
is the future. Maybe investing him long-term is the answer instead of toying with him on the bench. Just a thought.