Atlanta Hawks forward Josh Smith took Oklahoma City Thunder big man Serge Ibaka to task for a late-game dunk. Posted by Ben Golliver.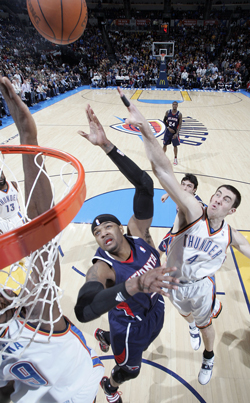 Following Oklahoma City's 103-94 home win over Atlanta on Friday, Hawks forward Josh Smith took exception to Thunder big man Serge Ibaka, claiming he violated an unwritten NBA code about running up the score late in a game that has already been decided and with the clock winding out.
Earlier in the game, Ibaka apparently bit Smith as well, and the combination of the biting incident and the late dunk did not sit well with Smith, who blasted Ibaka in
post-game comments to The Oklahoman
.
Asked if he was upset by Ibaka's dunk, or the foul, or both, Smith said, "You know what it was. That's showing disrespect (dunking the ball). Everybody in the whole league knows you don't do nothing like that. I talked to Durant about it. He said he would talk to him (Ibaka) about it, and he knew that wasn't right.
"Everybody knows that's not proper etiquette, you know what I mean? When you're at a dinner table, you don't dig in first when you visit somebody's home. You relax and see what's going on. You check everything out before you ever get you a plate. It's just proper etiquette. You don't do that.
"We won't forget that (dunk). We won't forget something like that."
The Thunder absolutely broke league-wide etiquette with the play, and Smith is right to call out Ibaka, even if it sounds like sour grapes and will likely be forgotten within days, despite what he said about remembering the move.
The episode is an interesting mile marker for the Thunder, who are no longer just a fun-and-gun young team. Having made the playoffs last year, and on pace to do so again this year, the Thunder really should be conducting themselves as if they have been there before and know what they're doing. That many of their heavy-minutes players, including Ibaka, are still in their early-20s is no longer a worthwhile excuse.
Still, learning how to "win with class" is a good problem to have, especially compared to the alternatives, such as learning to "lose with dignity." Smith made his point, Ibaka surely learned the lesson, and the Thunder move along, having taken another step in the maturation process.