Los Angeles Lakers head coach Phil Jackson says this will be his last season on the bench. Posted by Ben Golliver.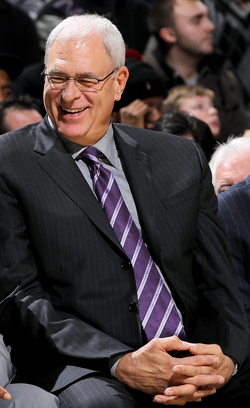 Judging by his public stances so far this season, Los Angeles Lakers head coach Phil Jackson has his foot out the door, heading for retirement after the season's conclusion.
Already this season, Jackson
has questioned
Miami
Heat
coach Erik Spoelstra's future,
speculated
about why Pat Riley stepped in for former Heat coach Stan Van Gundy,
didn't get behind
Rudy Tomjanovich's Hall of Fame candidacy, argued that the NBA shouldn't play on Christmas and said the
NBA shouldn't have taken over ownership control
of the New Orleans
Hornets
. What a list!
The Los Angeles Times reports
that all those shots at the league and his colleagues come as Jackson eyes the end of his coaching career.
Jackson was asked again if he could see himself taking some time off and coming back to coach. "No," Jackson responded quickly.
Why not? he was asked. "I think I've put in my service time," Jackson, 65, said. "I think I've done my due diligence that I set out to do, especially with this organization."

Jackson said he has "coached about as long as I want to coach."
Jackson previously left the bench for the 2004-2005 season, but returned to coach the Lakers to back-to-back titles the last two seasons. With 11 rings as a coach, and a surly attitude throughout this season, Jackson has every reason to call it a career and exit stage left.
The
Times
notes that long-time Lakers assistant Brian Shaw is expected to take over as head coach should Jackson depart after this season.