Cleveland Cavaliers forward Anderson Varejao suffered a broken cheekbone and is expected to miss two games. Posted by Ben Golliver.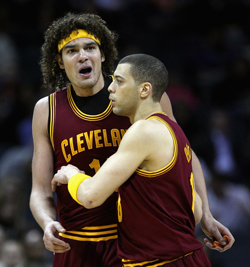 The Cleveland Cavaliers are terrible, and their 2011 is off to an even worse start, as their best player, forward Anderson Varejao, is expected to miss at least two games with a broken cheekbone.
The Cleveland Plain-Dealer reports
that the injury suffered during Wednesday night's loss to the Charlotte
Bobcats
.
Wednesday, he finally suffered a blow that he can't play through: a fractured cheek. It came from an inadvertent swipe from Charlotte and former Cavs center DeSagana Diop, and it didn't even force Varejao out of the game. His face swelled up on the flight home, however. Varejao will miss not only today's game at Chicago but also will be out Sunday's home game against Dallas.
"He never says anything about [injuries]," said Cavaliers coach Byron Scott, who didn't know Varejao was injured during the game. "Every now and then, he'll come and say, 'Coach, this is hurting.' He'll have a list of things that are bothering him. But then he'll get on the floor, and he just goes at it."
News-Herald.com notes
that Varejao will be fitted with a protective mask before he is allowed to return to the court and could miss longer than the two weekend games.
The Cavaliers have no replacement for his energy, hustle and rebounding ability, but will go with a smaller lineup featuring a big man rotation of
Antawn Jamison
,
Leon Powe
and
J.J. Hickson
in Varejao's absence.