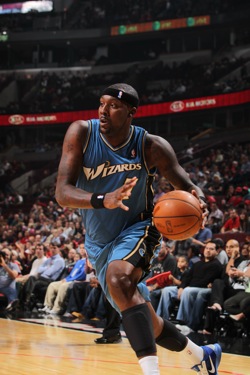 Posted by Royce Young
After reportedly becoming available recently,
one team already inquiring about
Andray Blatche
is the Cleveland
Cavaliers
,
according to the News Herald.
No telling what Cleveland could be offering back, but I'd assume it would be expiring contracts (
Jamario Moon
,
Anthony Parker
?) and some picks. Nothing of major value I'd guess.
But why go after Blatche if you're Cleveland? What exactly does he give your franchise in the process of recovering from post-LeBron syndrome? Blatche is a potentially talented power forward with an inside-outside game, but he's also a character issue and someone I'm not sure the Cavs want to try and build around long term. Cleveland is looking to start over with its roster and to make that first building block Andray Blatche isn't the wisest move.
Then again, the Cavs are desperate for talent. They've lost 16 of 17 and have slipped into the "worst team in the league" discussion. There's just not much on the roster to be remotely excited about.
Mo Williams
,
Anderson Varejao
and Antwan Jamison are quality players, but they aren't good enough to make up for a seriously awful bench.
If Cleveland did acquire Blatche it would probably suggest that Varejao would be moved in the future for a high pick and or young asset. Varejao has been rumored to be on the block for a while and having a guy like Blatche would make Varejao available to be moved. Especially with
J.J. Hickson
on the roster. No way Cleveland could keep all three.
But this is just an inquiry. GM Chris Grant probably just picked up the phone, called Ernie Grunfeld and said, "So Blatche is available huh? You take Anthony Parker and a second rounder for him?"
It's hard to blame the Cavs who are desperate for answers right now to at least ask about a basketball player with talent. Honestly, it might just be a little PR ploy to show fans that they're still trying. Who knows. But Blatche wouldn't fix anything in Cleveland, unless he straightened up. It'd likely just make things worse.