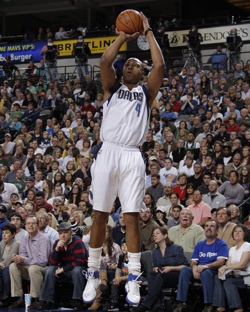 Posted by Royce Young
UPDATE:
Butler underwent surgery Tuesday to repair a ruptured right patellar tendon and is out for the season.
According to multiple outlets,
Maverick forward
Caron Butler
could miss significant time after potentially partially tearing his patella tendon in his right knee. He will be examinded on Monday to determine the injury.
Obviously this would be a haymaker in Dallas's gut if Butler has to miss the rest of the season or even the majority of it seeing as how the
Mavericks
have been playing extremely well together with Butler being a large part of that.
If the injury turns out to be as bad as it sounds and Butler is sidelined for significant time, what happens next for Dallas? Their first move has already been recalling guard
Dominique Jones
from their D-League affiliate. Jones was a first round pick by Dallas last June and was a scoring machine in college at South Florida. But as a lot of rookies do, he's struggled a bit in adapting to the speed and size of the NBA.
There's
Shawn Marion
, who has been playing behind Butler and can obviously fill in but not only does that hurt depth, but it also means Marion will have to take on increased minutes, something he may not be completely capable of doing. After that, the best option would be to play a bit smaller with
DeShawn Stevenson
playing small forward and
Jason Terry
starting at shooting guard.
A third option would be to slide
Dirk Nowitzki
down to small forward and play big inside with
Tyson Chandler
and
Brendan Haywood
starting together. That's pretty unlikely, but I'm sure we'll see that lineup at a few different points.
And then there's Steve Nova-- forget it. I'm not even going to try. If it comes to that, the Mavs are screwed.
It's not likely that Dallas will make a move for replacement seeing as their depth gives the Mavs options, but it does make the
Carmelo Anthony
rumors
that much more interesting.
Obviously Dallas would be renting Anthony for a few months and still doesn't have the best package to offer, but maybe Mark Cuban and Donnie Nelson crank up the offer a bit if Butler is out for the season. Maybe they're willing to part with a few more substantial assets.
Thing is for Dallas, the window isn't staying open for forever. Dirk is getting older,
Jason Kidd
already is old and their stellar role players like Marion and Terry aren't going to play at this level for a whole lot longer. So that could crank up the sense of urgency in the team to make a move. Butler isn't so important that hs absence means Dallas falls hard on its face or anything, but it means the Mavs might not be the title contender they were two days ago.
Does that mean Cuban goes for the high risk move to bring in Anthony (or someone else I guess) to try and sustain the current level? Again, not likely but I wouldn't rule it out. The Mavericks have always lived by their moniker. They've never been afraid to go against the grain and make a risky move if they thought it was the ticket to a title. So if Butler's done, I wouldn't put it past them.
Butler's value to the Mavs can't be understated. He's an underrated, versatile defender and is a big part in the Maverick offense. He takes pressure off of Dirk, gives Kidd another option to kick to on the wing and has takeover ability late in games. He's a 30-point threat, but fits in well enough to score an efficient 15 almost nightly. He's really a perfect complementary piece alongside Dirk and Terry.
The injury fairy has starting nipping at the Mavs with Dirk missing a week because of a knee strain and Rodrigue Beaubois missing the first few months because of a broken foot. With Butler's injury being potentially more severe, Dallas might have to re-evaluate the current plan. The Mavs want to win
now
. They're sick of waiting around. They've got some depth that can get them by but if Butler won't be ready by April, they might have to look elsewhere.