Portland Trail Blazers guard Brandon Roy is reportedly set to meet with an orthopedic expert to discuss the surgical options to help his ailing knee.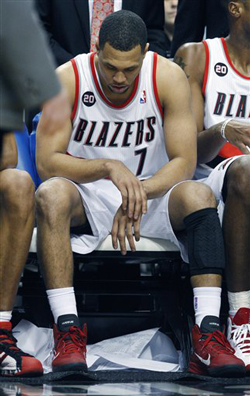 Posted by Ben Golliver.
Last week
, we noted that the Portland Trail Blazers announced that All-Star guard Brandon Roy would be out "indefinitely" with sore knees. Roy has already had surgery on both of his knees, and their condition is said to be "bone-on-bone," which is obviously not good.
It was reported earlier this fall that there were no additional surgeries that could provide relief, but
the Portland Tribune reports
Monday that Roy continues to investigate all options and will meet with an orthopedic surgeon who has "experience in meniscus transplantation."
Within the next two weeks, Blazer management will fly Brandon Roy to meet with one of the world's most renowned orthopedic surgeons to discuss the possibility of surgery and/or other treatment on Roy's troubled left knee.
The orthopedic expert is the team doctor for one of the NBA's other 29 teams. I'm not at liberty to report his name, but he has experience in meniscus transplantation.

The procedure has been performed on some professional athletes who have retired, such as football player Marshall Faulk. It has never been done on an active pro player, however.
This season, Roy has been a shell of his former self, lacking the mobility to move freely and the quickness to burst past defenders. He's battled painful, persistent swelling in both knees, but rest alone hasn't been sufficient to reduce his pain and free up his movement.
With four years left on his current mini-max contract after this season, any surgical discussion, especially one that involves a radical procedure, will likely be made with maximum deliberation.