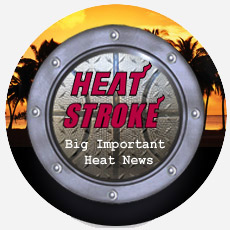 LeBron James calls the Miami Heat "the Heatles" in comparison with the legendary rock band, due to their ability to sell out on the road wherever they go. We compare and contrast in an all-too-serious endeavor of an altogether silly comment.
Posted by Matt Moore
In a move that's sure to make everyone much less critical of the collective ego of the Miami Heat, LeBron James
said in his postgame comments
after the Heat dispatched the short-handed and "Revolution No. 9"-esque
Bobcats
that the Heat referred to themselves as "The Heatles" since they sell out wherever they go. It should be noted that
Chris Mannix of Sports Illustrated reminded us tonight
, LeBron has used the "Eatles" gag before with
Drew Gooden
, Damon Jones, and James calling themselves "the Cleatles" in 2006.
Now, comparing his fledgling basketball team to the greatest rock and roll group of all time isn't even the dumbest thing LeBron's said in the past month (you may remember the 2010 pop hit "
I Want To Contract Your Hand
"). But it's right up his alley to make a ridiculous allusion which will only further the overwhelming amount of vitriol directed towards he and his Fab ... er ... Three ... when Bosh shows up. People love the Beatles.
Love
the Beatles. They were representative of both the childhoods of many and their parents, but a cultural revolution and the idea that the world could be a better place through listening to music made by drug users and makers of ridiculous film. They were also much, much cooler than LeBron James,
Dwyane Wade
, and
Chris Bosh
, and Wade's pretty cool.
Still, if we're going to venture down this long and winding road, we might as well take it all the way. And with that, here is the comprehensive guide to the similarities and dissimilarities of the Beatles and the 2010 Miami Heat.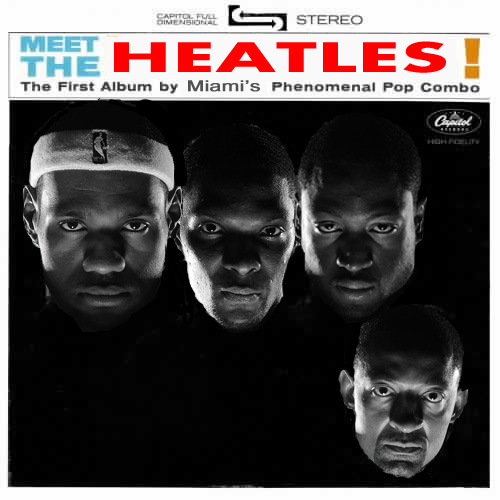 LeBron James is clearly John.
Complicated relationship with his mother: check. Periodic moments of delusions of grandeur (okay, not so periodic): check. Rampant mood swings particularly when brought under criticism: check. Brilliance in performance to an almost genius capacity in chosen field: check. Two sons: check.
Both James and Lennon shared early flashes of strain against traditional roles, as Lennon was one of the first to seek out experimentation with new instruments and creative ideas counter to the verse-chorus-verse traditional concept (along with George Harrison), LeBron began redefining the small forward position in the modern age with his ability to both distribute and rebound along with dropping a fat 40 in any given night. The two also began their professional careers when they were in their teens.
More than that, though, is that Lennon always sought to both embrace and reject the idolatry of their rock and roll lifestyles. Lennon very much sought to reach the "toppermost of the poppermost" in both creative and commercial success, while James and his merry band of LRMR men want to build a global empire. Lennon had a fierce rejection of the public eye once Beatlemania ran him ragged, and James began to slough off being the ultra-nice hero beginning with his refusal to shake
Dwight Howard
's hand in the 2009 playoffs.
And then, naturally, in the end, there's the rather ugly similarities between how Lennon left the Beatles and LeBron James left the
Cavaliers
, a kind of bizarre inverse similarity. Lennon left the greatest musical collaboration of all time to spread his wings on his own. This is the point where I quote "
Ferris Bueller's Day Off
" and reference "I don't believe in Beatles, I just believe in me." James left a situation where he was forced to be singularly great and solely profound on his own floor in order to join the greatest starting five collection of talent since... well, the
Lakers
. But it sells like rock and roll.
Dwyane Wade is Paul, there can be no doubt.
Commercially viable, easy with the press without having to overly strain himself, easy in the spotlight and more than happy to simply pursue pop songs, in this case, championships instead of messing with overt artistic revelations (global branding). Yet oddly underrated in that department as well, as some of the finest songs of the Beatles' peak era (
Rubber Soul
through
Sgt. Pepper's Lonely Hearts Club Band
) came from Paul, while Wade himself is redefining the combo guard position, sometimes playing the small forward to LeBron's point guard and at times the point guard to LeBron's shooting guard.
Again we see the similarities in reverse, as Wade had a prolific solo career that was still never as recognized as it should have been prior to his collaboration with the Triad.
Wade and Paul also enjoyed, ahem ... the company of several young ladies, though Wade's marriage to his childhood sweetheart is more reminiscent of John's relationship with Cynthia Lennon. Like McCartney, Wade is comfortable as the front man of his band and has been proactive in the management of his assets.
I
would love to tell you that Chris Bosh is a perfect compliment to George Harrison, but the comparisons simply aren't there.
Harrison was a savant, and a driving force in both the life of John Lennon until the breakup of the Beatles, and in the creative mojo that transformed the band from mop head magazine covers to transcendent artists that influenced everyone from U2 and the White Stripes to the Beastie Boys and Kanye West. Bosh on the other hand, would have been better replaced by
Amar'e Stoudemire
and while the explanations for
his play being of an All-Star caliber
are sound, watching the way the
Celtics
outright dominated him along with other tougher inside tandems leaves doubt, no matter how well he played against the Lakers. Harrison was quiet and enigmatic, Bosh is desperate for attention in the hurricane of media he operates in and has always sought out the limelight. If anything, with his videos featuring cowboy hats and other nonsense, he's more the Ringo type, but perhaps that's too cruel.
I
n this scenario, it should be said that Pat Riley bears a striking resemblance to George Martin
, "the Fifth Beatle." Having the vision to take them to the next level, knowing how to manage their egos, trusting in their creative vision, it all flows in line with Riley's work as GM of the Heat. Of course, if the Heat flounder in the playoffs, undergo a massive transformation and never recover, all of these translations are pointless. Okay, they're pretty pointless anyway, but the comparison still is fun to contemplate.
Of course, there's one huge difference between the two teams. After the Beatles made it big, they always sold out in England. In other words,
they always sold out at home
. Can't say the same for the Heat.
Maybe the strongest conceptual relationship, though,
exists in the friendship itself
. Brought together by a common interest (basketball, music), the groups became thick as thieves and seemed for all the world like the closest lads in Liverpool/South Beach. Never mind that in this scenario the Olympics in Beiijing is boarding school. But for all the intimacy that such time together can afford, the bonds still weren't warm enough to keep the group together as it spread apart with maturity. Yet the Heat grew together in part because of that maturity, or immaturity, as some have reasoned. The Beatles never expressed much public regret about their friendships ending, and if the Heat were to detonate this whole idea this summer after a failed playoff run, it's hard to see too many tears being shed by Dwyane Wade or LeBron James. Wade would go on trying to win championships and James would go on trying to build his brand just as McCartney continued making music and Lennon continued trying to build the brand of peace until his death in 1980.
At the end of last year's Eastern Conference Semifinals matchup between the Cavs and Celtics,
Kevin Garnett
spoke with LeBron James and while not explicitly suggesting he make his decision one way or another, d
id bring James' mind around to the complexities of the decision
. Likewise, Bob Dylan, an older and more experienced musician, introduced the Beatles to marijuana and in doing so, brought them into a new age of musical experimentation which led to their best work.
The recurring theme of Wade's injuries and the conspiratorial nature of the calls he received in the 2006 Finals do translate favorably to the "
Paul is dead
" hoax that came out of "Revolution No.9."
Have we mentioned that Chris Bosh hired a documentary filmmaker to cover his free agency this summer? The passion for film certainly translates here as well. A Miami Heat "Help!" film would do much to repair their public image. Okay, that's a lie. But it would be really funny.
Dare we say that Jim Gray is the equal to Ed Sullivan?
The best inverse relational aspect that people are hoping and waiting for?
They're all hoping LeBron becomes buds with Allen Iverson prompting him to leave the Heat hanging in order to join Iverson on some weird Sixers team that runs the Princeton offense or something. Yoko'd.
And yes,
Spoelstra's best comparison is Pete Best
, despite not having been replaced yet. Hard to get around it. Other candidates include:
Mo Williams
,
Delonte West
, and the entire city of Cleveland, Ohio.
Your complete Heatles Discography so far:
"A Hard Day's Night"
BOS 88 MIA 80
"Baby's in Black"
UTA 116 MIA 114
"Twist and Shout" M
IA 96 ORL 70
"Yesterday" M
IA 118 CLE 96
"Ticket to Ride:
MIA 113 NYK 96
"Sgt. Pepper's Lonely Hearts Club Band"
MIA 96 LAL 80