Three teams rising and three teams falling this week as the
Lakers
take a tumble, the
Bulls
keep slugging and wait, the
Clippers
?!
Posted by Matt Moore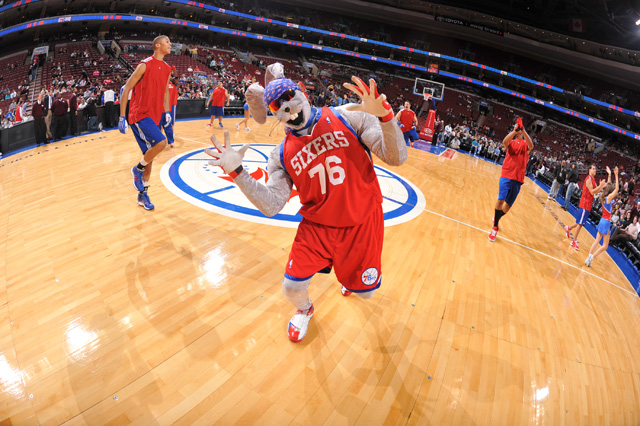 In this week's edition of 3-Up, 3-Down, the Bulls go up, the Lakers go down, and most everyone else stays just about the same. The latest edition of the power rankings this edition reflects will be up this afternoon on CBSSports.com so check back soon to vent your rage and/or shake your pom-poms.
3-Up
Chicago Bulls (6):
The Bulls are without
Joakim Noah
, and yet they've won four in a row, and 8 of their last 10. It's
Derrick Rose
. It's
Carlos Boozer
. It's Tom Thibodeau. And the combination thereof. Turns out Thibs is l
etting Rose set the table
, and in doing so, has freed up the Bulls in a way the offense hasn't been let go in years. And about that jumper that Derrick Rose improved upon? Rose is currently the 10th best scorer in the NBA in spot-up situations, shooting 48%. That's league wide, not just among point guards. That's up from 293rd last season. Pretty incredible turnaround. And a huge reason why the Bulls are the #3 seed right now.
Philadelphia 76ers (16)
: There's a belief afoot that
Evan Turner
and
Jrue Holiday
play better without
Andre Iguodala
on the floor. And considering the spurt the Sixers have gone on with Iguodala on the shelf. But they've now lost two in a row without him, so the boost is fading, and Iguodala
is in the top six lineups
for the Sixers in plus/minus. So you can see why they're torn on when to ship Iguodala out. The Sixers are getting back to their mean, though, which is enough to not be terrible. And Evan Turner showing signs of life is the best news of all.
Los Angeles Clippers (22):
I'm not saying they're a playoff team, far from it. But it's hard to ignore the improvements they make with each game. If they can just get
Baron Davis
off the floor, they may have something here. Oh, and
Blake Griffin
, Blake Griffin, Blake Griffin.
3-Down:
Los Angeles Lakers (10)
: That's a pretty steep fall, there, Lake Show. Getting your face caved in by a
Grizzlies
team on the second night of a back to back will do that. The Lakers will be fine, but a point should be made here. If the Lakers find themselves down by three possessions in the third quarter, what's their best approach? In the minds of many it's to get the offense moving. Get off-ball movement, flows through the triangle, guys off screens. Get the offense moving, and if it results in a Kobe jumper, terrific. He's certainly the guy you want as the tip of the spear. But what you don't want is Bryant going one-on-five in ISO to try and spark the offense. That doesn't spark the offense. It just stagnates it. Until Bryant learns that, they're going to have issues because he doesn't have the physical abilities he used to.
Milwaukee Bucks (13):
There's something seriously wrong with Milwaukee and by all appearances it looks like a matter of trying to fix something that wasn't broken. The Bucks
scored 102.0 points per 100 possessions last year, 23rd in the league
. They brought in massive amounts of offensive firepower with
Drew Gooden
and
Corey Maggette
among others. They're
dead last in offensive efficiency
, averaging 96.8 points per 100 possessions. That's not a fall, that's a cratering. The Bucks are in big trouble right now. They can't stay above water (in the playoffs in the East, anyway) with that kind of noose around their neck forever.
Cleveland Cavaliers (30):
This is bad as it gets. Right? Right?