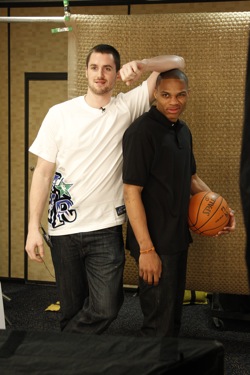 Posted by Royce Young
Super trios are all the rage in basketball these days. Or at least the idea of forming one is. And I guess the place to hatch the plan is overseas.
That's rumored to be where
Dwyane Wade
,
Chris Bosh
and
LeBron James
decided to come together back in 2008. During the Beijing Olympic games, the three made a pact to join forces. And according to a story from Sports Illustrated, three other young stars talked about doing something similar in Turkey during the World Championships.
Kevin Love
told
SI.com that he's discussed
playing with
Russell Westbrook
and
Derrick Rose
at some point in their careers. Love said, "We all talk about playing together. It's fun to talk about. When the time comes, we'll assess the situation and figure it out."


All three are eligible for long-term extensions this summer. Maybe they plan on doing the same thing Bosh, Wade and LeBron did when they all added in a player option on the fifth year so that way they can opt out and look for the best situation.

Obviously all three teams the players play for now will absolutely look to lock them up for a good while. For a time, Love's future in Minnesota looked uncertain, but according to the SI story, Love will be in line for a max extension. Rose will likely garner one as well. And with the way Westbrook is playing, he might be getting the big payday too.

But what if they are really serious about playing together? Like Love alluded to, when will that time come? Westbrook and Love are former teammates, having played together at UCLA where they went to a Final Four. Rose is one of Westbrook's very good friends and evidently good pals with Love too.

The first question is, could Westbrook and Rose actually play together? It's really not that much different from Wade and LeBron honestly, except that Westbrook is five inches shorter than LeBron. But really, Westbrook is almost the same player except a little smaller and technically he plays a different position. Rose is similar to Wade except that he plays point guard. It might take some work but that would be about as fast and dynamic a backcourt as you'll ever see.

And of course then add in Kevin Love who is probably every bit as good as Bosh and you've got quite the core. Maybe it's not as super as the group in Miami but in five years? Westbrook, Love and Rose might be as equally household superstar names as Wade, Bosh and LeBron.


It's unlikely there's a fit for all three to join up, but Love and Westbrook could realistically pair up, most likely with the Thunder. Oklahoma City has some cap space coming up and with the uncertain situation of Jeff Green, there could be an opportunity there to snag Love.

But that, or the combination of the three, is of course is a long way off from happening. And there's a darn good chance it never actually comes to fruition. Love was probably just talking -- as he tends to do -- and said how the three discussed how fun it would be. Right now Westbrook and Rose are in pretty good situations themselves so I'm sure they are thinking about any kind of ultimate trio at this point.

However, just for kicks let's assume that Oklahoma City is the "South Beach" all these guys take their talents to. Love, Westbrook, Rose and Kevin Durant? That would be an okay team I think.