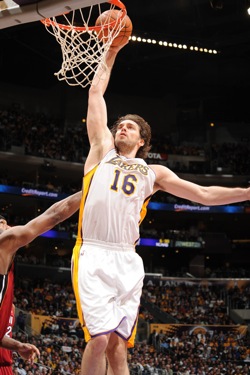 Posted by Royce Young
If it looked like the
Lakers
were a bit lethargic in their 104-89 loss to the Memphis
Grizzlies
Sunday, it's because some of them actually were a little weary-eyed. As in maybe they just woke up.
A team official told ESPN.com
that at least three Lakers, including
Pau Gasol
, were victims of Apple's now famous iPhone/iPod glitch that caused the alarm function to not work. As a result, Gasol entirely missed the team's shootaround and the two others (one was
Luke Walton
) were late.
Mentioned in the report is that Gasol's absence just added to
Kobe Bryant
's current frustration with the team, highlighting a perceived lack of committment and focus from the two-time champs. The loss to the Grizzlies made it fourth out of six in the loss column for the Lakers.
Gasol had 10 points, eight rebounds and five turnovers with no assists in 32 minutes. After the loss the Memphis was when a lot of the barbs between Phil Jackson and Kobe started getting tossed around.
One of the complaints from Jackson was how Gasol wasn't involved enough in the offense in the second half. Maybe the reason he didn't get more involved was because he wasn't totally awake during the game.
Right now, the Lakers are going through the motions and just kind of expecting to get by each night because of talent. They don't have the same commitment to the defensive end that made them champions and Kobe is trying to do way too much.
It really looks like the Lakers need a pretty good wake-up call. Better to use something other than an iPhone for it though, I think.