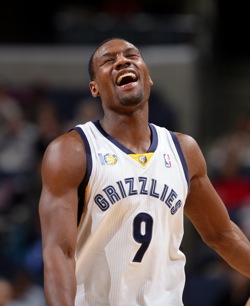 Posted by Royce Young
CBSSports.com's Gary Parish reports
that
O.J. Mayo
and
Tony Allen
had a physical altercation on the team flight home following a win over the
Lakers
Sunday. The fight left Mayo with a "swollen face" Parrish says.
Mayo was ruled out of Tuesday's win over the
Thunder
with what the team called "bronchitis." I wasn't aware bronchitis can be brought on from repeated punching to the face, but apparently that happened.
Allen started in place of Mayo Tuesday against Oklahoma City and played maybe his best game of the season, scoring 19 points in the victory.
Parrish also reports
that the altercation came after a card game gone wrong. Mayo reportedly became increasingly belligerent toward Allen when asked to settle a debt. Allen had walked away, gone to restroom on plane and returned to find Mayo was still berating him. That's when it got physical, according to the report.
I know what you're thinking. At least they didn't pull out guns like what happened after another card game gone bad in Washington D.C. last season, right? But still, how can this happen? Following the
Gilbert Arenas
-Javaris Crittendon incident from last season, a lot of teams banned gambling on team flights. Evidently, the
Grizzlies
did not.
In the Arenas-Crittenton case, Crittenton reportedly won $25,000 playing the card game Bourre -- the same one Allen and Mayo reportedly fought over -- and said he was going to shoot Arenas in his surgically repaird knee as the two argued over the debt. Instead of getting all punchy, Arenas brought a gun into the locker room to make some sort of joke about it.
All-time winningest coach Don Nelson said after the Arenas incident that maybe gambling should be a league-wide ban. He said, "It's not a bad thing not to allow gambling, money on the table, card games. Maybe the league ought to think about doing something that way. It would probably be a good thing."
Another case happened in 2000 with the
Raptors
. Before an exhibition game, Charles Oakley looked to collect a debt from Philadelphia's Tyrone Hill. Oakley slapped Hill on the side of the head and was fined and suspended for game later that seaosn for chucking a ball at Hill's head during shootaround. In 2001, Hill reportedly paid Oakley $54,000 that he owed from a dice game.
In 1999, Jerry Stackhouse allegedly punched Christian Laettner after believing Laettner had cheated him out of $2,000 in a card game.
So it's obvious this isn't something new with Allen and Mayo and a card game that turned ugly. But it's a problem the league might have to start really considering a ban on. Any time large sums of money get involved in things, emotions raise a tick. When players turn into debt collectors, things tend to go from harmless to serious pretty quickly.
And that's evidently what happened with the two Grizzlies. It's really playing with fire if you're a team that allows it. Amazingly these two guys are supposed to continue to co-exist on the same team, despite throwing down. I would imagine that the Grizzlies might reconsider allowing players to gamble on the plane from here on out. They'll likely become one of those teams that frowns upon cards.
The Grizzlies issued a team statement that said, ""There was a brief altercation between Tony Allen and O.J. Mayo. The club considers the matter closed."
The club might consider it closed, but should the
league?