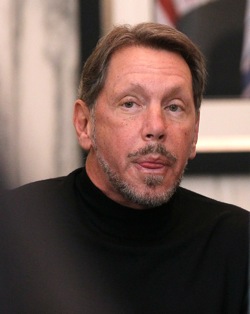 Posted by Royce Young
You know how the NBA bought the New Orleans
Hornets
? Well I just assumed that was because there wasn't another buyer out there after Gary Chouest backed off. But really, it was because there wasn't the
right
buyer.
Larry Eillison told the San Jose Mercury that he put in a $350 million bid
to buy the Hornets, but was rebuffed and outbid by the league. David Stern said the league paid "a little over $300 million" for the Hornets.
Eillison, who is a billionaire by way of his company Oracle, also tried to purchase the Golden State
Warriors
over the summer but didn't win that bid either. Ellison is the
world's
sixth richest person.
Probably one reason the league "outbid" or just said no to Elllison is that he was in no way committed to keeping the team in New Orleans. He was definitely buying with the intention to move, something the league is not looking at doing at the current moment. So the fact that there was a buyer available but the league pushed him away bodes well for the future of professional basketball in New Orleans.
At least for now. When the NBA starts dropping major money on the franchise and things get too tough to operate, I'm sure they'll be fine selling the team to whoever as long as the buyer's got a big checkbook.
Eillison told the Mercury News in regards to him buying the Hornets, "
"I was trying to buy the team first, and then figure out what I was going to do with it." He didn't necessarily have plans to move the team to San Jose, where he currently resides.
Forbes blogger Mike Ozanian said a source suggested Ellison is interested in buying the Hornets for about $300 million and then pay the Warriors an additional $150 million for the legal right to operate a second NBA franchise in the Bay Area.
Ellison said those reports were not true.
It's interesting nonetheless that a buyer was at least there. All indications made were that the NBA really didn't have an option outside of Chouest when George Shinn committed to selling. But evidently there was. It's just the prospective owner didn't have the plan in mind the NBA wants. Kind of a conflict of interest, wouldn't you say?