Orlando Magic coach Stan Van Gundy takes some digs at the Miami Heat's new "Heatles" nickname. Posted by Ben Golliver.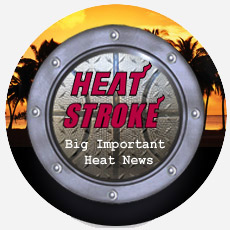 Last week,
LeBron James
let the world know that his Miami Heat team is so awesome and popular that they belong in the same sentence as the biggest band of all time. That's right, James
took to calling his team the "Heatles,"
a play off the hysteria-inducing popularity of the Beatles, because they are able to sell out every venue, even in small-markets that aren't particularly keen on paying to attend professional basketball games.
Informed of the new moniker by the
Orlando Sentinel
, Magic coach Stan Van Gundy
took a few digs at the nickname
.
"They're pretty impressed with themselves," Van Gundy said Wednesday. "Maybe some places that's what turns out. I know here it's not. We're selling out no matter who we play, so we don't need to bring them in to get people in our arena. But other places that may the case."
Van Gundy later added: "I'm not disputing that there are some places in the league where they don't draw well and they only come out to see the [ Los Angeles] Lakers and the Heat and things like that. That may be true in some places, but it's not true here. They're not raising our attendance."
Van Gundy hasn't always handled himself perfectly in the media this year, as his outburst over some comments Phil Jackson
made him sound whiny and petulant
. Here, though, Van Gundy plays beautifully on the Heatles' big flaw: the Heat haven't always sold out their home games, and their fans don't always show up.
In the process of making his point that the Magic take care of their business in that regard, Van Gundy is elevating Magic fans above the average, indirectly drawing a divide between "real basketball fans" and "casual fans who show up for the scene." Any time a head coach can clown the Miami Heat and pay tribute to the loyalty and consistency of his own fans in one sentence, that's an opportunity that can't be missed.