The Memphis Grizzlies have fined guard Tony Allen for fighting on the team's plane with teammate O.J. Mayo. Posted by Ben Golliver.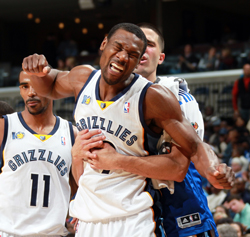 The Memphis Grizzlies have issued a terse press release, announcing that the team has fined guard Tony Allen for his role in a fight with teammate O.J. Mayo that occurred on the team's plane. Here's the statement, in full.
The Memphis Grizzlies fined guard Tony Allen an undisclosed amount for his involvement in an altercation on Jan. 3 during the team's return flight home to Memphis, General Manager and Vice President of Basketball Operations Chris Wallace announced tonight.
The fine is the latest step taken by the team in response to
the incident
, which reportedly involved a dispute between Allen and Mayo over an unpaid boo-ray card game gambling debt and ended with
Allen punching Mayo hard enough
to leave his face "swollen." The incident occurred when the team was flying back to Memphis after beating the
Lakers
in Los Angeles on Sunday night.
On Wednesday, we noted
that the Grizzlies have also moved to ban gambling on their team flights in the wake of the incident.
For More

:
Ken Berger's take on how the NBA's gambling culture should be modified, click here.
Matt Moore's thoughts on how NBA players can pass the time other than playing boo-ray, click here.
Royce Young's quick-hitting reaction after news of the fight broke, click here.