The Denver Nuggets, New Jersey Nets and Cleveland Cavaliers reportedly were close to completing a three-team trade that included Nuggets All-Star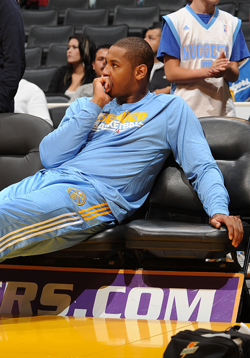 forward Carmelo Anthony before Christmas. Posted by Ben Golliver.
Carmelo Anthony trade rumors have been running hot and heavy for four or five months now, and here's the latest: ESPN.com is reporting that the Denver Nuggets, New Jersey Nets and Cleveland Cavaliers
nearly completed a three-team trade
that would have sent Anthony to the Nets prior to Christmas.
The Nets have a standing offer of rookie Derrick Favors, two first-round draft picks and Troy Murphy on the table, but last month, sources said the Nuggets weren't interested in Murphy because they would have inherited the remaining $8 million on his expiring contract. So the Nets brought in Cleveland and its $14.5 million trade exception.
Denver would have received Favors, Devin Harris and three first-round picks. Cleveland would have received Murphy and one or two first-round picks, and the Nets would have received Anthony, Al Harrington and the Cavaliers' trade exception, the sources said.

Beyond the sticking point of Anthony accepting or refusing to sign the long-term extension with New Jersey, the deal fell apart because both Denver and Cleveland wanted the 2012 first-round pick the Nets got from Golden State in the Marcus Williams trade. That pick is protected through the first seven slots.
None of the names and assets listed are much of a surprise, as just about all of those players, picks and Cleveland's trade exception have been floated in one rumor or another involving these teams over the last few months.
Let's look at this proposed deal from all three sides.
For Denver, including Harrington in this trade would be a real coup, as his 5-year, full mid-level deal doesn't make much sense for a team that's in rebuilding mode. Obviously, the more picks and the less protection on those picks, the better, but receiving Favors and Harris in addition to multiple picks would be a sizeable and more-than-worthwhile return for Anthony, especially given that he could walk for nothing this summer.
For New Jersey, this is a huge, huge price to pay, and while Anthony would give the team the star power it so desires, New Jersey's roster would be decimated and its future flexibility would be in even worse shape. It's not often that a team gets the best player in a trade and winds up getting the shortest end of the stick, but if this trade went through as described, that's exactly what would be happening for the Nets.
As for the Cavaliers, a pick or two plus Murphy's expiring contract is better than nothing, which is what trade exceptions usually wind up becoming because teams often don't use them. Future assets are of prime importance for the Cavaliers, who are terrible and not particularly loaded with young talent. If they could find a way to dump one of their larger salaries in this move, or as part of an expanded version of this trade, that would be even better. As is, though, this move is absolutely worth making for Cleveland. The reward far outpaces the cost of paying Murphy for the duration of the season, and it's difficult to imagine a better return on their trade exception.