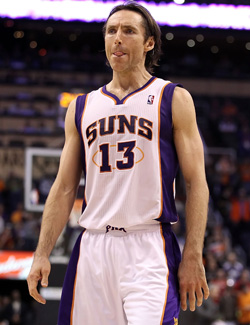 Steve Nash signs up with a Chinese shoe company, ending a 15-year arrangement with Nike.
Posted by Matt Moore
Chinese shoe companies has progressively signed more and more players to endorsement deals. It's an opportunity for a player to capitalize on the global market in a very simple and effective way, and the money's not bad either.
Kevin Garnett
signed with ANTA,
Baron Davis
is with Li-Ning. Peak recently nabbed
Jason Kidd
and
Ron Artest
. And now a Chinese company has a two-time MVP to add to its roster.
Steve Nash has made a significant push the past few years in expanding his global presence and today that continued as
he left Nike after 15 years for Luyou
. What's Luyou? Well here's
a look at their previous work
.
The move echoes the mass integration of NBA players in the Chinese market. The NBA is becoming more global as an entity, and the players are moving to be a part of that globalization. The question will be how the domestic market responds to these developments.