Former All-Star Stephon Marbury predicts there will be an NBA lockout next summer. Posted by Ben Golliver.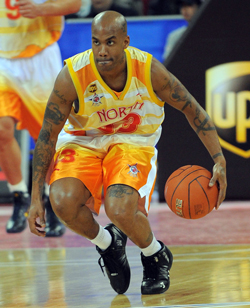 In
a New York Magazine profile
, former All-Star guard Stephon Marbury, who is currently playing professionally in China, predicts that there will be an NBA lockout next summer and that the owners will emerge victorious.
"There's definitely going to be a lockout in the NBA after this season. The owners do not want to pay older players, and the players will cave, because they're only focused on now. The owners, they're looking at this long term, like a fifteen-year business investment."
Nobody listens to Marbury anymore, not since he started getting in
car crashes while UStreaming
, so his statements aren't nearly as damaging to the players' cause as, say,
LeBron James
'
support of contraction
.
But that doesn't mean they should be ignored. In fact, Mabury sounds far more reflective and far less delusional in the profile.
"You know, I know everybody thinks I'm crazy," he confesses out of nowhere. "But I don't mind that. It means I'm doing something different from y'all." He says he doesn't regret his Knicks tenure. "It was an opportunity to play basketball in my hometown. It doesn't bother me what that supposedly did to my image. Image is the reflection you see in the mirror. I stayed true to myself throughout my whole basketball career, so when I look in the mirror, I can see myself."
Somtimes, the most accurate assessments can come from the most unlikely places, and here Marbury's prognostication regarding the upcoming CBA negotiations seems fairly likely to play out as described.
NBA owners absolutely want to reduce their guaranteed contract commitments, especially the massive sums often paid at the end of multi-year contracts to past-their-prime, unproductive players. They have given every reason for us to believe they are willing to fight, and fight hard, for that financial relief. The players, meanwhile, will eventually be faced with a difficult decision: make the required concessions, or risk losing the ability to earn salary entirely during a work stoppage next season.
Marbury's word -- "cave" -- is just a really strong way of suggesting that the players will choose the lesser of two evils, and settle for some concessions to ensure that the paychecks keep rolling. Of all the possible ways for the negotiations to play out, that's got to be the favorite in the clubhouse, right?
Sure, Marbury might be crazy. But, here, he's closer to being crazy like a fox, rather than being crazy like
a guy who eats vaseline
.