NBA commissioner David Stern says that fans boo Miami Heat star LeBron James because he's good at basketball. Posted by Ben Golliver.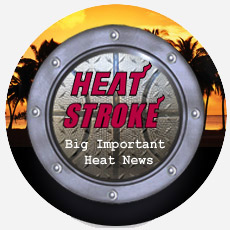 All season long, we've covered the fan reactions to Miami Heat All-Star LeBron James as he's traveled the country in the first season following "The Decision," his televised free agency debacle. His former home Cleveland, of course, provided the harshest treatment,
hexing him with a witch doctor
,
launching a campaign to laugh at him
, and producing some incredible (and incredibly hurtful)
shirts and signs
during his first game against the
Cavaliers
.
James has done his best to flip that attention on its head,
dubbing the Heat the "Heatles"
for their road popularity. NBA commissioner David Stern was asked in an interview with FoxSports.com what he makes of all the negative attention James commands on the road, and Stern downplayed the importance of "The Decision," choosing to focus instead on James' considerable basketball talent.
"You either loved or booed Kobe and the Lakers. People used to love or hate the old Celtics. I think it will morph into the Heat being one of our really elite teams. And people boo the elite teams when they come into town to beat up on the hometown team."
"I don't mind it if he's booed in the context of the dominant team he's playing for. I think that I'm not sure people know exactly what they're booing. Are they booing because he left Cleveland? Certainly they're doing that in Cleveland. Are they booing him because it took 18 minutes for 'The Decision' to say where he was going? Yeah, probably. Are they booing him because he's part of a team that people think is too strong for their home team to compete with? Probably more so. And that will fade, and then they'll boo him because he's a member of the high-performing Miami Heat."
The booing will continue throughout this season, at the very least, as a good chunk of the NBA's fanbases haven't yet got their licks in. But there's a lot of truth to what Stern says, as time heals most wounds, even catastrophic self-inflicted ones like those James created with "The Decision."