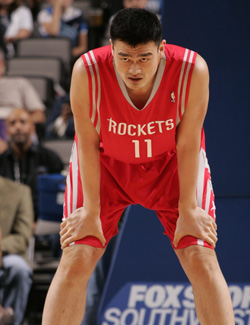 Posted by Royce Young
Most teams are interested in
Yao Ming
because of his contract. That $17 million expiring deal with an $8 million insurance policy is definitely intriguing to rebuilding clubs.
But as Yahoo! Sports reports,
the Golden State
Warriors
might be interested in Yao for more reasons than just the money.
Don't be surprised if the Warriors make a run at injured Houston Rockets center

Yao Ming

after he becomes a free agent this summer. While Yao is expected to be out as long as 10 months after undergoing ankle surgery, the Warriors have long wanted to add him to help boost their profile in the area's Asian community.

Seldom-used rookie guard Jeremy Lin is nearly as popular as Stephen Curry and Monta Ellis . The Warriors would jump at signing Yao for a reasonable price.

So don't misunderstand: The Warriors are interested in free agent Yao, not current $17 million Yao. More than likely, someone is going to make a play for Yao because of the money, but regardless, he's going to be on the open market this summer.
Yao has already said that he's not ready to call it quits. He wants to give basketball another shot, but it's pretty clear his next opportunity won't be with Houston.
But the fit in the Bay Area could be a good one. He'd have immediate support and a franchise that doesn't need him to be the focal point of the offense. I'm not sure how well he'd fit into the up and down style of the Warriors, but he'd certainly give Eliis and Curry a nice inside-out option to work off of.
Hopefully Yao has another opportunity waiting for him this summer. And if he can get healthy, he'll surely get a chance somewhere.