Phoenix Suns point guard Steve Nash has found his name in trade rumors, but he sounds confident that he won't be moved.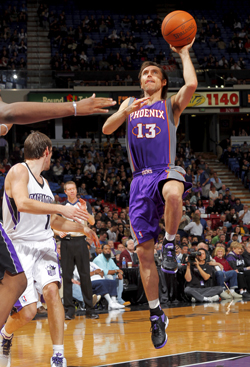 Posted by Ben Golliver.
While Phoenix Suns point guard Steve Nash has
traded shoe companies
, he sounds pretty confident that he won't be switching NBA teams prior to this year's trade deadline.
Earlier this week, we
noted a report
that said the Suns were "on the fence" about rebuilding, and a full-scale rebuild would involve moving Nash, who is earning $10.3 million this season and $11.7 next season. That number will make him the team's highest paid player in 2011-2012, assuming the Suns buy out the last year of
Vince Carter
's partially guaranteed contract as expected.
Asked by the Arizona Republic
about the trade talk this week, Nash makes it sound like he's not going anywhere, and he cites conversations with Phoenix's GM, Lon Babby, as the reason.
"He (Babby) told me a month ago when it first sprung up that he had no plans to move me," Nash said.
"I signed up for this," Nash said. "I'm committed to trying to build a team here. Obviously, last year was a phenomenal year. Tied 2-2 (in the conference finals), I thought we could win a championship. I genuinely believed we could and would win it. It's tough to be in this position six months later. I'm still committed to it. I love the guys. I think we've got potential but we've had so much change and haven't been able to put it together. If we want to point fingers, we've got to point some at ourselves and say, 'We haven't put it together.'
"I'm still happy."
Nash says he is still happy, but his on-court body language has often hinted to the contrary. That's no surprise: this season has been a huge letdown for the Suns and their fans, following last year's deep playoff run.
If Nash isn't on the block, though, Babby's hands are tied a lot tighter when it comes to possible trades. He already shipped out one summer acquisition -- forward
Hedo Turkoglu
-- and two others --
Josh Childress
and
Hakim Warrick
-- haven't exactly worked out. What the market is for those two players is unclear, though, and it's doubtful that Phoenix has any other pieces that they would be willing to part with that anyone else would want.
Still, Nash's words are surely comforting to the Phoenix faithful who, by and large, would prefer that he stays rather than goes. If it boils down to a choice between struggling with Nash and struggling without Nash, that's not a very difficult decision for Suns management and fans.