Cleveland Cavaliers forward Leon Powe underwent knee surgery on Friday and is expected to miss six weeks. Posted by Ben Golliver.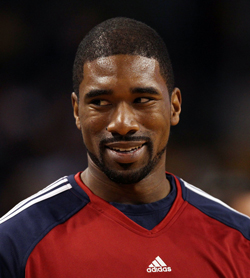 Leon Powe made his name as a member of the 2007-2008 NBA champion Boston
Celtics
, but a torn left ACL derailed his future in Boston. In the summer of 2009, he signed a two-year contract with the Cleveland Cavaliers.
Unfortunately, a knee injury has befallen Powe once again, as the
Plain-Dealer reports
that Powe underwent surgery to repair torn meniscus in his right knee that was discovered during an MRI on Friday. He is expected to miss six weeks.
Powe, a 27 year-old forward in his fifth NBA season, is averaging 5.0 points and 2.7 rebounds in 13.4 minutes per game off of Cleveland's bench. The Cavaliers take a "by committee" approach to their frontcourt and coach Byron Scott has plenty of forwards that have been in the rotation that can help pick up the slack.
The Cavaliers hold the worst record in both the Central Division and the Eastern Conference, at 8-27 on the season.