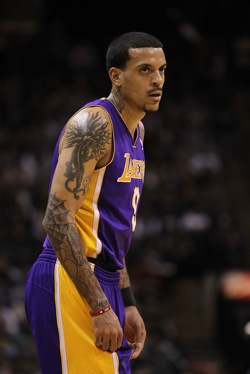 Posted by Royce Young
UPDATE:
Barnes tweeted
he'll be out eight weeks after his surgery.
Per Mike Bresnahan of the LA Times on Twitter,
Laker forward
Matt Barnes
has a torn lateral meniscus on his right knee and will miss "several weeks." No timetable is set yet as Barnes will have surgery next week.
Barnes had an MRI today that revealed the tear.
While Barnes isn't a big name or a huge producer for the
Lakers
, his loss could be somewhat significant. He's been a big part of their bench this season, actually player better in stretches than
Ron Artest
. Barnes gives the Lakers an extra defensive-minded player off the bench, but can also knock down an open 3.
The Lakers have
Luke Walton
and rookie
Devin Ebanks
, but neither have near the toughness or skill as Barnes. There's a good chance that Phil Jackson actually won't go deep into his bench looking for help, but instead just using the extremely versatile
Lamar Odom
at both backup power forward and small forward.
Kobe Bryant
has been battling some knee issues all season,
Steve Blake
had a small ankle tweak and Odom has been a little banged up. Injuries are part of any season, but nothing that substantial has hit. Until now, of course.
Just when the Lakers appeared to finally be getting kind of healthy with
Andrew Bynum
's return, of course something goes wrong. Again, it's Matt Barnes not someone
that
important, but nevertheless, depth is something teams really value, especially in the postseason.