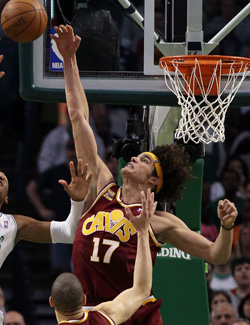 Anderson Varejao is out for the season with torn ligament which will require surgery. Loss is more costly for Cavaliers than just on-court production.
Posted by Matt Moore
The Cavaliers season went from bad to worse as the Cavaliers have announced that forward-center Anderson Varejao
i
s out for the season with a torn ligament in his leg. The injury will require surgery,
ending Varejao's season according to the Cleveland Plain-Dealer
.
Equally as damaging as losing Varejao's on court abilities as he leads the team in rebounds and blocks, is Varejao's value as a trade asset. Varejao is younger than
Mo Williams
or
Antawn Jamison
, but is a proven veteran that can contribute, has a large but reasonable contract that is movable, and to top it all off, is a big man who can contribute immediately. For a Cavaliers team loaded with
LeBron James
' trade exception, picks, and in need of moving salary, Varejao represented a significant asset for them to pursue options with at the deadline.
Without Varejao,
J.J. Hickson
is likely to see an increase in minutes, though Hickson and coach Byron Scott haven't exactly been bosom buddies this season. Leon Power was
announced out earlier this week
in need of knee surgery to repair a tear. So basically, the Cavaliers are having a very Cleveland week.
A bad season gets worse. Expect a massive fire sale before the deadline as any hope of contention ended long ago and now hopes of moving forward with this core has also been derailed.