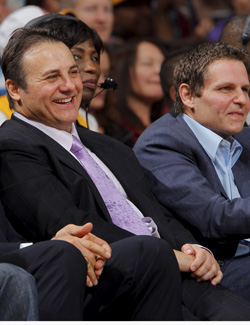 Kings owners announce they will pursue every option for long-term viability of the franchise, signaling end to pledge to keep team in Sacramento.
Posted by Matt Moore
It was inevitable that it would come to this. Eventually the owners of the Sacaramento Kings, Joe, and Gavin Maloof would have to be realistic about their situation in Sacramento with the Kings. Not only due to the long, drawn out failures by the city to finance a new arena, but of the economy wreaking havoc on everyone, making a financial liability like the Kings no longer an acceptable cost. First comes word from the
Orange County Register
that the Maloofs may be having financial difficulties with their Las Vegas investments, including an issue with a sizable loan. From the
OC Register
:
The relocation rumors revved up again Friday when Bloomberg News Service reported that two private investment firms are negotiating to acquire a controlling interest in the Palms Casino Resort in Las Vegas, also owned by the Maloofs, after the family violated its loan covenants.

If the Maloofs are having significant financial problems — the Sacramento Bee reports that in 2009 the family sold its original beer distributorship in New Mexico for more than $100 million and that there also were staff layoffs in the Kings organization and at The Palms — then perhaps there is a greater sense of urgency to move the franchise to a market with better demographics, more potential corporate sponsors and an NBA-ready arena.
via
Are NBA's Kings Anaheim-bound? | nba, kings, arena - Home - The Orange County Register
.
On the heels of that
came a release Monday
from the Kings ownership group saying: "We are looking at all options to ensure the long-term viability of this franchise".
Ruh-roh.
The Kings are 29th in the league in attendance, but have proven throughout the years that a winning team will get them in the building and loud. Unlike the
Hornets
, who struggle with attendance even when their team is in the midst of a playoff race, Sacramento has shown they can be profitable when the team isn't dreadful. However, the city has also voted down multiple measures to support a new arena, and in today's NBA, that can be a death sentence.
With Las Vegas well within the eye of the current ownership group, and billionaires in both San Jose and Anaheim (including Larry Ellison
who has been in pursuit of a team multiple times
in the past three years), there are other options for the Maloofs. In this kind of climate, you have to consider the odds of the team staying in Sacramento to be aggressively slipping away.