The New York Knicks reportedly covet Memphis Grizzlies big man Marc Gasol. Posted by Ben Golliver.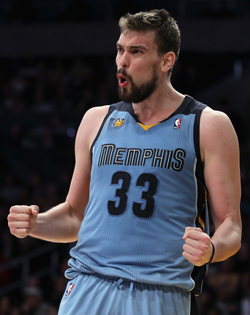 The New Jersey
Nets
continue to dominate
the
Carmelo Anthony
trade discussions, leaving the New York Knicks on the periphery, and one can help but wonder what New York's backup plans are, should the Nets finally succeed in landing Anthony.
The Knicks will have plenty of cap room this summer, with less than $42 million in committed salary for 2011-2012. Given the desirability of the New York market, the team's success this season, coach Mike D'Antoni's up-tempo style and a solid, improving core surrounding 2010 free agent acquisition
Amar'e Stoudemire
, the Knicks are shaping up to be this year's standout free agent destination.
So, who are the Knicks eying, assuming Anthony isn't available?
The
New York Post reports
it could be a big man to play alongside Stoudemire, rather than an elite scorer.
If the Nets pull off the blockbuster multi-team trade and Anthony accepts a contract extension, the Knicks are expected to change the focus of this offseason to restricted free agent 7-foot-1 center Marc Gasol. The younger brother of the Lakers' Pau, Gasol is the type of burly big man the roster lacks and team president Donnie Walsh covets.
The Knicks currently have a makeshift post group, with
Ronny Turiaf
and
Timofey Mozgov
getting burn in the middle, when they aren't opting to play small ball. Gasol is a dream target for the Knicks, not only because of his skillset but also because of his fit alongside Stoudemire, as he's shown the ability to be productive alongside a premier scoring power forward in
Zach Randolph
.
Gasol, a restricted free agent following this season, is averaging 11.4 points and 7.2 rebounds this season, down slightly from his career highs of 14.6 points and 9.3 rebounds last year. At 26, he's just entering the prime of his career, he's an efficient shooter and a solid rebounder, and he doesn't need an exorbitant number of touches to contribute on offense. Defensively, he's big, active and long, and much quicker than he was a few years ago, thanks to a sizable loss of weight. Even better, Gasol is a talented passer, able to make plays for his teammates from the block or further from the hoop.
The question here is obviously one of availability. The Grizzlies have shown hesitancy in offering a contract extension to Randolph, and should he be traded or sign elsewhere the Grizzlies will have plenty of salary cap room and dollars to funnel to Gasol. The Grizzlies can't afford to see both Randolph and Gasol walk, as their only true remaining big man would be project center
Hasheem Thabeet
. In other words, Memphis will be extremely motivated to keep Gasol.
Gasol, however, has yet to make the playoffs and has watched his brother, Paul Gasol of the Los Angeles Lakers, make multiple runs at a title. Forcing his way out of Memphis for a bigger market and a better team would surely appeal to a player in his situation, but he's yet to show any indication that he'll take that approach.
Whatever Gasol decides between now and this summer, one thing is for sure: he is set to get paid in a big-time way.