Ted Williams, the Cleveland Cavaliers' formerly homeless golden voice radio announcer made famous recently, was reportedly detained by the Los Angeles Police Department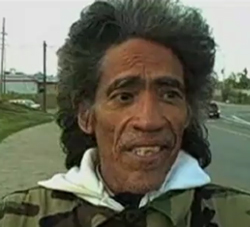 on Monday night. Posted by Ben Golliver.
Less than one week ago,
we noted
a truly heartwarming tale: the Cleveland Cavaliers offered Ted Williams, a homeless man with a great radio voice found panhandling on the side of the road, a supplementary public address job and a house.
The good vibes lasted for about six days, as multiple outlets are reporting that Williams was detained by the Los Angeles Police Department on Monday night.
TMZ has the details
.
Ted Williams -- the homeless man with the golden voice -- was detained by LAPD last night after getting into a shouting match with one of his daughters.
It went down at the Renaissance Hotel in Hollywood -- where Ted and his daughter got into it so loudly ... a hotel employee called the cops.
Ted and his daughter were both taken to the Hollywood station, but neither Ted nor his daughter wanted to press charges so both were released.

KTLA.com
also has the news
.
The Cavaliers are in Los Angeles to play the
Lakers
on Tuesday night.
According to the LA Times
, Williams attended Lakers practice on Monday. Here's
video
of Williams meeting Lakers star
Kobe Bryant
.
The paper also noted that Williams was scheduled to be featured on
Entertainment Tonight
on Tuesday. Talk about a busy 24 hours.
Earlier this week,
TheSmokingGun.com uncovered
Williams' lengthy criminal record and CBSSports.com's NFL Facts and Rumors team posted
many of his mugshots
.
Mo' Money. Mo' Problems.