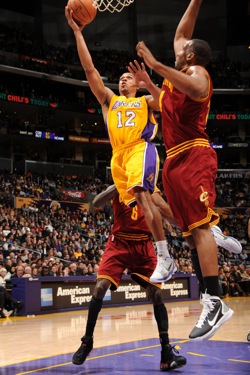 Posted by Royce Young
I could've sworn I was watching the opening round of the NCAA tournament there for a second. I just knew this had to be a 1-seed pummeling an overmatched 16.
But no, it was actually two professional teams playing, with only one
actually
playing. The
Lakers
topped the
Cavaliers
112-57 Tuesday. That's a 55-point margin right there. A five and then another five after it. Fifty-five points. The Cavs scored 57 points and the Lakers beat them by 55. That's got to be some kind of
something
.
What does the coach of a team that just lost by 55 and scored only 57 points say? I bet Byron Scott probably didn't even go to the locker room after the game. He probably just walked straight to the team bus and waited until everyone else got on.
But what does
LeBron James
tweet while the Cavs take the worst beating in franchise history?
Something like this:
"Crazy. Karma is a b****.. Gets you every time. Its not good to wish bad on anybody. God sees everything!"
Maybe it was a coincidence and LeBron wasn't even aware of the Cavs-Lakers game. Maybe he was talking about something entirely different. Or maybe he really is embracing this villain thing. I bet if LeBron could've tweeted that in Comic Sans, he would've.
He told us he was taking mental notes. He heard all the noise talked about him. But it does seem a bit weird to gloat about his old team taking such a walloping, doesn't it? I mean yes, he is playing for the hottest team in basketball. The
Heat
are clearly awesome. But to take joy in probably the most embarrassing loss in Cavalier history? Doesn't that just seem...
cruel?
But then again, LeBron has to take some kind of satisfaction out of this. He did hear a lot coming from Cleveland about his decision to leave. He heard the boos. He heard the stuff being said about his family. He read Dan Gilbert's letter. He heard the chant, saw the signs, read the tweets coming at him. He's human. He felt all of that. So in his defense, this had to feel a bit vindicating for him. He took a lot out on them when he came back and dropped 38 in Cleveland's face, but it hasn't been this bad for the Cavs yet this season.
Still, this is just petty. It's unecessary. It's salt in an amputated leg. We all know the Cavs have fallen on hard times since LeBron's departure. He doesn't really need to point it out. And evidently, he thinks it's God's wrath for all the nasty things people said. I'm pretty sure God isn't punishing the Cavs because of what happened in The Decision fallout. Though Clevelanders might feel like they're being punished for something at this point.
There have been a lot of low points for the Cavaliers since LeBron left. It started with the beatdown following The Return, then the team lost 10 straight. But this game has to be rock bottom. I don't think it gets any worse for Cleveland. This is their 11th straight loss and the 21st out of 22. And not only that, it's a 55-point destruction in which their former favorite son tweeted about karma and God hating them.
(For the Lakers though, this is the lowest amount of points allowed in franchise history, topping the 66 allowed to the
Bobcats
. I guess the Lakers are getting back on track.)
But I guess Cavs fans can still take this one with them: The largest margin of victory in NBA history? The Cavs over the Heat in 1991 by 68, 148-80. So there's still that, Cleveland.