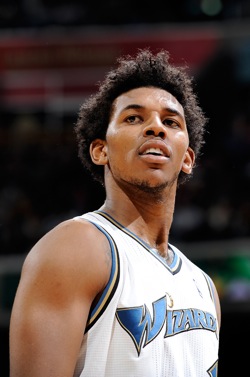 Posted by Royce Young
During the preseason, a bearded
Gilbert Arenas
famously faked an injury so then teammate
Nick Young
could get a start for the
Wizards
and show off some of his talent.
And Young did. He dropped 24 and hit seven shots from 3. It was a chivalrous move by Arenas and something he took a lot of
Heat
for, but something I'm sure Young greatly appreciated.
But Arenas did Young an even bigger favor. He got traded to Orlando.
Young is now firmly in Washington's starting five and he's making the most of it. Tuesday against the
Kings
, Young scored a career-high 43, including 18 in the third quarter. After his explosion against Sacramento last night in which took a bow at the buzzer,
Arenas sent his buddy a text.
It said, "You learned from the master."
Young said the Arenas trade hit him pretty hard because over the past few years, the two had formed a pretty solid bond. They had become friends and Young looked up to Arenas in more ways than one. Not only was Arenas faking injuries for Young, but when they were in the game at the same time, Arenas would call plays for Young.
"He kind of took me in," Young said after Arenas was traded. "He's like a brother to me."
The first game after Arenas was traded, Young and the Wizards hosted the Heat. Young dropped a then career-high 30 points and held
Dwyane Wade
to just 7-19 shooting. While Young was upset because his best friend on the team was gone, he was finally getting a real chance to show what he could do. And this time, not in a preseason game that nobody was watching.
On the season, Young's averaging 15.9 points per game and is hitting 41 percent from 3.
But since he's been starting, he averaged 18.3 ppg in December and so far in five games for January, he's putting up 22.2 points a night. He's gone from decent bench player to potential a building block for the Wizards.
Young fits in really well with
John Wall
in the backcourt as a good spot-up shooter and someone athletic enough to attack the rim off the dribble. Young has good size (6-7) and can really play three positions. If these past few weeks aren't just a hot streak or a fluke, Washington could be looking at a pretty good future backcourt between Wall and Young.
Thing is though, we've seen this type of thing happen in Washington before. After Antwan Jamison was traded last season to Cleveland,
Andray Blatche
finally got a chance to start full-time. He made the most of the opportunity, averaging 20 points and 10 rebounds over the last three months of the season. But because of a foot injury and potentially a sub-par work ethic, Blatche has been disappointing this season.
Will that same fate hit Young? Hopefully not. Like I said, he's got the tools to be a legit starting 2-guard in this league. And right now, he's got the confidence. Two very important things for a young player trying to find his way.
The Wizards need a scorer badly to supplement Wall. Just like
Derrick Rose
in Chicago, while Wall is a nice scoring point guard, he's there to create and distribute for teammates. He can't do it all alone. So with Young, plus Blatche (when he's actually in shape and focused) and
JaVale McGee
who's an athletic freak, the Wizards have a nice little core to build around. Most didn't see Young as part of that but because of Arenas' departure, the door has been opened. And just like the preseason game, all Arenas had to do was give Young a chance.