LeBron James claims he had "no intent" when he tweeted that "Karma is a b****" after the Los Angeles Lakers destroyed the Cleveland Cavaliers on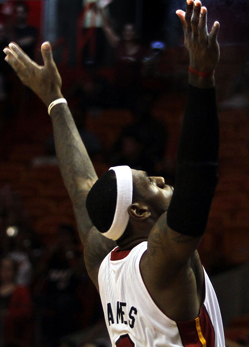 Tuesday night. Posted by Ben Golliver.
On Tuesday night, shortly after the Los Angeles Lakers destroyed the Cleveland Cavaliers,
we noted a tweet
from Miami
Heat
forward LeBron James which read, "Crazy. Karma is a b****.. Gets you every time. Its not good to wish bad on anybody. God sees everything!"
Although James did not explicitly make reference to the Cavaliers or owner Dan Gilbert, it was widely assumed that James was referring to his former team and/or owner, Dan Gilbert, with whom he messily split this summer when he opted to take his talents to South Beach and team up with
Dwyane Wade
and
Chris Bosh
in Miami.
Before Wednesday's game between the Los Angeles
Clippers
and the Miami Heat, James backed away from the perceived sentiment of the tweet, claiming that it wasn't intentionally directed at the Cavaliers or Gilbert.
The Sun-Sentinel reports
that James said that he had "no intent" with the tweet and implied that the entire episode was a poorly-timed misunderstanding.
"It was just how I was feeling at the time," he said. Yet he added in the same breath, "It wasn't even a comment from me. It was someone who sent it to me and I sent it out."
"I don't think it was no intent at all," he said. "I think everyone looks into everything I say. Everybody looked too far into it. It wasn't no intent at all."
"No hit toward that organization. I've moved on. Hopefully that organization has continued to move on. But I'm happy where I am as a Miami Heat player."
James, who posts under the Twitter username
@KingJames
, has more than 1.24 million followers on the social networking site.
Of course, this isn't the first time James has tried to wiggle out of a controversy of his own making. James
drew criticism in December
for advocating contraction, and then drew more ire when he
backed off his statements
by claiming he didn't know what the word "contraction" meant.
While the assumed intent of James' tweet was completely classless, his failure to take responsibility for his words is perplexing. He can't possibly expect everyone to believe this was simply a coincidence, especially given the immediate and national outcry the tweet provoked, and the fact that he didn't bother posting a clarification.
If the tweet wasn't accidental, and it's impossible to believe it was, what are our alternate explanations? Perhaps this song-and-dance is all a game to James? Perhaps he enjoys the thrill of watching his words sweep the country and provoke strong reactions? Perhaps he's reserving his right as a human being to make flip comments and settle scores without needing to explain them in minute detail to a national audience?
Who knows. But the episode goes down as another black mark on James' reputation, both for the vindictiveness of the original message and the feebleness of his unbelievable explanation.