Portland Trail Blazers All-Star guard Brandon Roy is reportedly considering an arthroscopic knee procedure. Posted by Ben Golliver.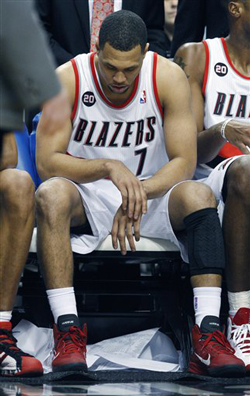 The Portland Trail Blazers
announced in December
that All-Star guard Brandon Roy would be sidelined indefinitely with pain in both of his surgically repaired knees. Last week,
we noted a report
that Roy was considering meniscus transplant surgery, a rare procedure not usually performed on professional athletes during their active career.
The
Portland Tribune reports
on Wednesday that transplant surgery is apparently no longer an option, and that Roy is now considering an arthroscopic procedure on his left knee.
Roy and team officials flew to the Bay Area last Thursday to meet with Dr. Brian Cole, the team doctor of the Chicago Bulls and one of the world's foremost experts on articular cartilage repair.
Cole is of the opinion that meniscus transplant surgery on Roy, who has had a pair of lateral meniscus operations and is at the bone-on-bone stage with the left knee, is not an option. Cole offered the possibility that an arthroscopic procedure, however, might relieve some of the pain.
Arthroscopic surgery is a relatively simple procedure and generally does not require an athlete to be sidelined for an extended period of time. Roy underwent an arthroscopic surgery during last year's playoffs and returned to the court eight days after the procedure.
The Tribune notes that Roy could potentially return to the court this season if he decides to undergo an arthroscopic surgery.
The Blazers have played surprisingly well in Roy's absence, but guards
Wesley Matthews
and
Rudy Fernandez
have struggled at times to provide the scoring consistency that made Roy a three-time All-Star in his first four seasons in the NBA.
IN theory, this would represent an ideal situation for Roy, as his goal is to return to the court and play effectively as quickly as possible. Questions remain, though, about whether a procedure of this kind would relieve the persistent swelling and soreness he has experienced this season and allow Roy to play with greater mobility. It was assumed this fall that the conditions of Roy's knee had deteriorated to the point that a surgery of this type either wouldn't be possible or wouldn't have a meaningful impact.