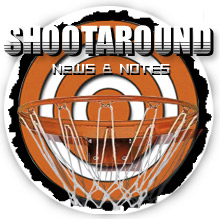 Posted by Royce Young
Maybe Andre Iguodala was rushed back: "Hindsight is 20-20, but had Noch been healthy, maybe Dre could have gotten a few more practices under his belt before he played," Collins told The Philadelphia Inquirer ."
Mark Heisler of the Los Angeles Times: "In an unofficial poll, broadcasters Don MacLean, Michael Eaves and I decided it had to be the greatest quarter in Clippers history. Of course, in other teams' histories, they keep track of seasons, not quarters. After that, what figured to happen, happened. The Heat got control of the runaway Clippers offense, holding them to 24 points in the second quarter and 18 in the third. Midway through the fourth quarter, Miami cut it to 97-95 when James drove, had the ball batted away by Al-Farouq Aminu, fell out of bounds, got up limping, hopped back onto the floor, found himself trapped in the corner with the ball and the 24-second clock running out … and knocked in a three-pointer. Then something amazing happened. The Heat was spent. The Clippers had more left, especially in the way of hunger. So now, as the Clippers look around, who else's world can they shock? Oh, they play the Lakers here Sunday."
Bud Shaw of The Plain Dealer: "If you're keeping track of this poker game, LeBron James just saw Dan Gilbert's Hindu reference and raised him a deity. Both messages, Gilbert's and James, were spiteful and self-serving. Both claimed a higher power -- the universe, God -- were doing each's bidding. I wish these guys would agree to a third-party mediation, preferably with Dr. Phil. My guess is Gilbert doesn't mind James' latest shot as much as resentful Cavaliers fans do. James' tweet absorbed some of the anger more deservedly directed at Gilbert's team after the worst performance in franchise history."
Rick Bonnell of The Charlotte Observer: "Paul Silas has always had this gift for making people believe in themselves. That's what's going on with D.J. Augustin, who needed that more than any Bobcat. So Augustin's best game as a pro – 22 points, 12 assists and a single turnover against one of the NBA's best, Derrick Rose, is a direct result of Silas' psychology."