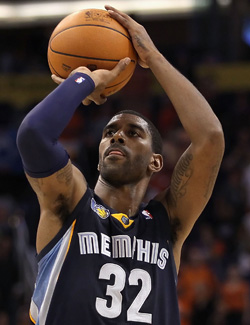 Report states Knicks attempting to bring in Grizzlies to Melo talks with hopes of moving O.J. Mayo to Denver.

Posted by Matt Moore
An ESPN report states
the Knicks have brought in the Memphis Grizzlies in an attempt to make a move on
Carmelo Anthony
while talks between the New Jersey
Nets
and the
Nuggets
have been strained. The primary piece in play sends the Nuggets O.J. Mayo, who has long been rumored to be on the trade block despite public insistence from the Grizzlies that they have no intention of trading the third-year star.
New York was on the fence about getting into the talks as recently as ...
oh, this morning
, but of course these things move fast and if the Knicks see an opportunity to swoop in using a team like the Grizzlies as a facilitator -- much like New Jersey was attempting to with Detroit -- they're going to go for it. Mayo would bring the Nuggets a young player to build around, who showed signs early on of being a 20-25 points-per-game scorer before regressing alongside the other young guys in Memphis. Mayo showed potential in his rookie season and carried that over into last season. But with
Mike Conley
having an increased role in the offense alongside All-Star
Zach Randolph
and emerging star
Rudy Gay
, Mayo suffered an early-season slump that landed him on the bench, and since then, things haven't been the same for him.
Should the Grizzlies get into this trade situation (and there has been no indication so far they're interested yet), they have to bring in actual talent as well as a pick. That needs to be the goal, not just being a cash dump for the Nuggets in order to avoid having to face public scrutiny over whether to re-sign Mayo or not. Anything less than coming out the best in this deal results in further talk in the media and the league about Memphis being nothing but a clearinghouse for bad contracts. Michael Heisley's reputation can't afford another Pau-Gasol-like deal.
The Knicks moving forward seems very much like seeking out an opportunity in a vacuum. The question is whether the Knicks can somehow finagle a better set-up than what they have offered from the Nets.
And the trade rumors that won't die continue to not die. We should get T-shirts printed.