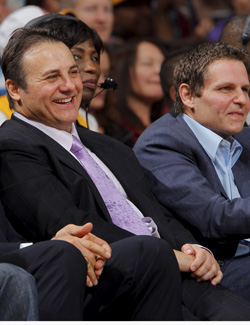 Posted by Royce Young
It's no secret that the Sacramento Kings are looking at potentially relocating. The Maloof brothers even pulled out the deadly, "We'll look at our options" phrase.
The early candidates that have been mentioned for Sacramento? San Diego, Seattle, Las Vegas or a return to Kansas City. You know, the same list that always pops up. But the real candidate might be just down the road a bit. Anaheim.
According to KFBK/1530 in Sacramento via the Orange Country Register, the Maloofs met recently with Ducks owner Henry Samueli to talk about his proposal to bring the Kings to Anaheim.
Reportedly, Samueli offered the Maloofs a $100 million loan as part of the proposal to help cover the extra costs that come with relocation and territorial rights fees and also offered to help the Kings owners manage their debt.
That has to be an intriguing offer to the Maloofs. They're having some financial issues, but they don't want to sell. They want to keep the Kings franchise breathing and in their hands, but also get them somewhere that they can make money.
The Kings have been pushing for a new arena and it's looking more and more like that will fail, even with the support of mayor Kevin Johnson. Without a new arena, the Maloofs may have their hands forced if they want to keep the franchise.
In Anaheim, there's a new arena in the Honda Center and the Kings could just slide in and be co-tenants with the Ducks there. Anaheim has also been mentioned as a potential landing spot for the Hornets, especially with the word about Larry Ellison trying to buy the team. I would bet if Ellison got his hands on the Hornets he would look to move them West as fast as possible. And Anaheim would likely near the top of his list.
But it's not a done deal that the Kings will move anyway. I'm sure the Maloofs would prefer to keep the team in Sacramento and just start making money there. And while they've got a new deal with Power Balance for naming rights, they need real money. That comes with new sponsorships, better attendance and a new arena. Unless they get that last one, they may have to, well, look at their options.