Posted by Royce Young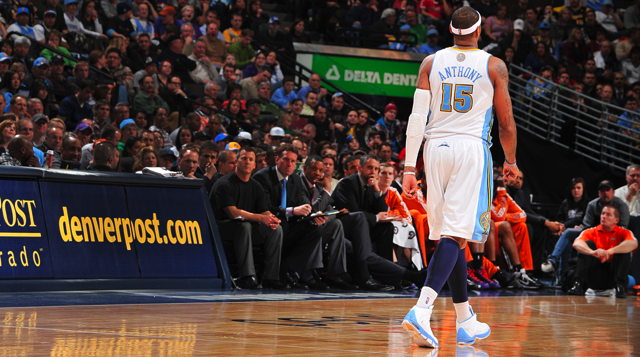 Carmelo Anthony
caught some attention when he said recently that
playing in New York is his "ultimate dream."
He said a lot of other stuff in that inteview too, but the way things work is that line gets latched on to and everyone runs wild with it.
Speaking with the Denver Post,
Carmelo tried to sort of clarify what he meant. And elaborated -- rather candidly too -- what his mindset has been through all of this and why he hasn't signed an extension to stay in Denver.
"I got to feel like I have a chance of reaching my ultimate goal of a championship. Going to a bigger market is cool, but if I feel like I have a chance of winning a championship here in Denver in the next five years, then I'd sign the extension ...

"It's just uncertainty in the future of the (Nuggets) organization," said Anthony, who is currently second in the Western Conference All-Star voting for forwards. "A lot of things come in to play – contracts and not knowing what's going to happen in the future. I'm going into my ninth season. I don't have time to waste. I want to see the light at the end of the tunnel in my future, and that light is a championship."

I think we can take Carmelo at his word there. I absolutely believe he wants to win a championship first and foremost. But he also wants to win it where he wants. If really his only goal was to win a championship and it didn't matter
where
, he'd be looking somewhere other than New York or New Jersey, two teams that still need some help before they're in contending form. Heck, Denver probably has better championship potential than those two places right now.
Melo was asked about the possibility of
Chauncey Billups
accompanying him wherever he's traded.
"Having Chauncey would help my chances (in winning a championship)," Melo said. "… Me and Chauncey, we talk about bringing a championship (to Denver). I don't just go out there to just play basketball, just to do it. Winning is on my mind. I want to see that parade go down Colfax and Speer. That was my dream. If I feel like I can't do that here, then I don't think this is the right thing to do."

Interesting choice of words there. That WAS my dream. Not that IS my dream. Maybe there's something to read into there, maybe not.
"We've had multiple division titles, went to the Western conference Finals, never missed a playoffs – there's been a lot of success. People live in the now, though. …

"My ultimate goal at the end of the day is to win a championship – whether I feel I can do that here or go somewhere else. At the end of the day, you have to make that decision of what's best for you and your career. Right now, whatever decision I make will be what's best for me. … Still, I have a chance to win a championship and make less money, I don't have a problem with that."
It really is the new way of thinking for NBA stars. Instead of building that championship team around you, it's easier to go out and find it. To go out and chase down a roster where it can happen NOW, not later.
And you know what? There's nothing wrong with it. People are going to blame Carmelo for being selfish and a jerk and for pulling a LeBron here, but he's right about something. This is
his
career. This is
his
life. He gets to do what he wants. He gets to make these decisions. Fans live on emotion and have the right to get mad at players when they don't live up to expectation or do what they want, but the players have every right to make their choices too.
It's very possible that tonight's game could be Carmelo's last in Denver. The Nuggets play the Cavs tonight, then travel to San Antonio Sunday and aren't back home until Wednesday against Oklahoma City. By then, Carmelo will still be chasing that championship. It just might be in another uniform.