Bulls forward Carlos Boozer sprained his ankle Saturday against the Heat and will not play on Monday against the Memphis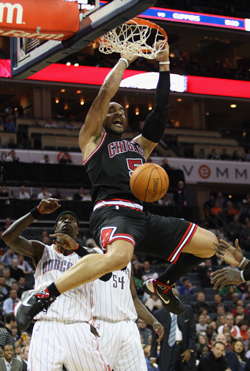 Grizzlies.

Posted by Ben Golliver.
Looks like Heat forward
Chris Bosh
wasn't the only big name player to go down in Saturday night's clash
between Miami and Chicago, as Bulls forward Carlos Boozer sprained his ankle on the last possession of regulation.
Bulls.com reports
that Boozer will stay in Chicago to receive treatment on his ankle while the Bulls travel to Memphis to face the
Grizzlies
on Monday night.
The Chicago Sun-Times reports
that Boozer "left the United Center with his left foot and ankle in a boot" and described the play during which the injury was sustained.
On the play where Boozer was hurt, Derrick Rose missed a short shot in traffic. Boozer tipped the ball out - where Kyle Korver gathered it and hit a three-pointer with 25.5 seconds left - and injured the ankle as he landed.
Boozer has played just 25 games for the Bulls this season, as he suffered a hand injury shortly after signing with the team during the offseason. Since he's averaging his machine-like 20.1 points and 10.1 rebounds and has been forced to hold down the middle while Bulls center Joakim Noah is out after undergoing surgery on his thumb .
Bulls.com reports that forward Taj Gibson will get the start for Chicago in Boozer's absence and will play alongside veteran big man Kurt Thomas, who will start at center. They will draw a tough assignment in Memphis's productive big man duo of Zach Randolph and Marc Gasol. Randolph is averaging 20.1 points and 13.1 rebounds while Gasol is putting up 11.3 points and 7.2 rebounds.
After the road game in Memphis, the Bulls will begin a six-game homestand to close out January, hosting the Charlotte Bobcats, Dallas Mavericks, Cleveland Cavaliers, Milwaukee Bucks, Orlando Magic and Indiana Pacers. The Bulls are 27-13, sitting in first place in the Central Division.