The Denver Nuggets have reportedly granted the New Jersey Nets permission to speak to All-Star forward Carmelo Anthony about recent trade proposals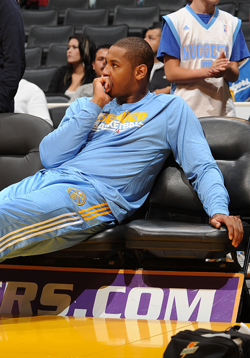 and signing a contract extension. Posted by Ben Golliver.
NBA.com reports
that the Denver Nuggets have taken an important step towards trading All-Star forward Carmelo Anthony, giving permission to the New Jersey Nets to speak directly with Anthony about the trade and about signing a three-year contract extension.
A league source said Sunday that the Denver Nuggets have granted the New Jersey Nets permission to speak directly with Carmelo Anthony about the proposed trade that would send Anthony to New Jersey, and about potentially signing the three-year extension that the Nets insist Anthony agree to before they agree to make the deal.
Under normal rules, direct contact with Anthony by Nets officials, up to and including majority owner Mikhail Prokhorov, would be tampering. But if Denver gives New Jersey permission to contact Anthony, the Nets can make their sales pitch to Anthony about their team without being subject to penalties.
This is an unusual move in the NBA, and it speaks to Anthony's unique strength in the long-running trade talks between the Nuggets and the Nets, which most recently included a
three-team proposal
that also involved the Detroit
Pistons
. Those
talks slowed
early last week when Anthony made statements to the effect that he didn't believe a trade was imminent.
The step is a very public sign from the Nuggets that they have not been able to convince Anthony to sign an extension that would keep him in Denver, which had long been assumed. It also appears to signal Anthony's continued reluctance to sign with New Jersey, as it has long been rumored that he wants to join the New York
Knicks
. Late last week, Anthony said in an interview that it would be his
"ultimate dream"
to return to play basketball in New York, the city in which he was born.
Now the heavy-duty sales pitch begins. Nets owner Mikhail Prokhorov and GM Billy King are able to make their best case directly to Anthony without relying on media or agent intermediaries or worrying about being fined by the NBA league office for improper contact. And
Yahoo! Sports reported Sunday
that the Nets plan to meet Anthony "early in the week -- prior to Denver's next game on Wednesday."
New Jersey's pitch will likely include: using Anthony as the centerpiece of a team that will have cap space to attract additional top-end talent in the future, pairing him with promising big man
Brook Lopez
, moving the team to Brooklyn in the near future to achieve Anthony's goal of playing in front of a hometown crowd, and utilizing Prokhorov's vast fortune and international connections to turn Anthony into a truly global star. Also, rapper Jay-Z is a co-owner. He's pretty cool and appeals to everyone, including NBA All-Stars.
The Nets will also need to convince Anthony that he should be willing to endure a potentially tough stretch during the balance of the season, as the Nets have the second worst record in the Eastern Conference at 10-30, sport a roster that's short on talent and long on question marks, and will be sending a bunch of young talent and draft assets to the Nuggets in a deal that would land Anthony. Even if they landed Anthony tomorrow, it would be an uphill battle during the second half of the season to make the playoffs, even in the weaker Eastern Conference. Also, the Nets will also need to ensure Anthony is happy with new coach Avery Johnson, who is known for a demanding style.
These direct talks don't necessarily mean that a deal will get done, but it's a promising sign given that they come more than a month before the trade deadline. This development shows a professional commitment from all sides that hints that a trade will, eventually, take place.