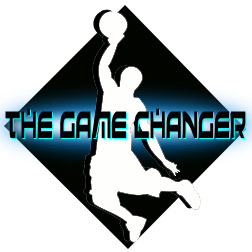 The Los Angeles Clippers defeated the Los Angeles Lakers in the battle for LA and the San Antonio Spurs easily handled the Denver Nuggets at home. Posted by Ben Golliver.
Each game is made up of elements which help formulate the outcome. Monday through Friday, we'll bring you the elements from the night before's games in our own specialized version of the game recaps. It's not everything that happened, but it's an insight into what lead to the results you'll see in the box scores. This is
the Game Changer.
THE BIG ONE: YOU WILL BEND TO Blake Griffin
Los Angeles Clippers rookie Blake Griffin is not only phenomenally athletic, he plays the role of "rookie that doesn't care about your veteran way of doing things" absolutely perfectly.
Griffin's Clippers defeated the defending champion Los Angeles Lakers on Sunday, and while it certainly wasn't Griffin's most efficient night, he left his stamp on the game in the closing seconds.
With a comfortable lead and the win virtually secured, Griffin continued to battle hard underneath the glass during a free throw attempt, prompting Lakers forward
Lamar Odom
to swing him by the jersey for his perceived unnecessary hustle and physical play. The two forwards had a staredown which resulted in four players being ejected (
video here
) and the Lakers left a little salty at Griffin's lack of decorum in a situation that happens hundreds of times over a long NBA career.
Will Griffin still chase every rebounding attempt with absolute ferocity when he's Odom's age? Possibly not, but it's not out of the question. Sunday's exchange was simply proof that when it comes to "motor" -- that all-purpose scouting term that combines hustle, energy level, activity and desire -- Griffin, even as a rookie, rocks the most cylinders and has the most horsepower.
Not only does he go hard, though, Griffin has shown in recent games that, despite being soft-spoken and even-keeled off the court, he excels in the macho on-court NBA climate of punking and trashtalking. He's been delivering stares after dunks for months now, but his success as a rookie has made him a target of mental attacks from his opponents. Against the Miami
Heat
last week, Griffin responded to some trash-talking by throwing down a ridiculous double-pump dunk and then letting the Heat know about it. Here, against the Lakers, Griffin holds his ground as his teammates comically come to his defense, as if anyone was really going to mess with Griffin one-on-one, face-to-face.
Griffin is still finding his way in the league, as demonstrated by Portland
Trail Blazers
point guard
Andre Miller
body-slamming him in retaliation for some rebounding skirmishes. But Griffin's message to the rest of the NBA has become clear and consistent: you guys will adjust to me and my talent, not the other way around.
So far it's working out pretty well for him.
GO-GO-GADGET LINES OF THE NIGHT:
Tony Parker:
30 points, seven rebounds, four assists, two steals on 11-15 shooting in 32 minutes in a San Antonio Spurs home victory over the Denver Nuggets.
Blake Griffin:
18 points, 15 rebounds, three assists in 38 minutes in a Los Angeles Clippers home victory over the Los Angeles Lakers.
Andrew Bynum:
18 points, 13 rebounds, three blocks on 7-11 shooting in 32 minutes in a Los Angeles Lakers road victory over the Los Angeles Clippers.
DON'T MISS:
WHIMSY:
Los Angeles Clippers center
DeAndre Jordan
serves as a spotter as his teammate does a pre-game handstand.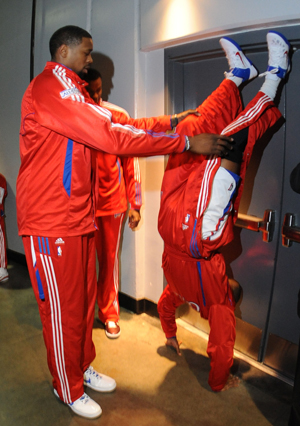 HIGHLIGHT REEL PART ONE:
J.R. Smith
is the best in-game dunker in the NBA (only
LeBron James
comes close). One of the reasons why: Smith doesn't care at all about time/score situations. Even in blowouts, he's looking to put you on a poster. Here, down big against the San Antonio Spurs, Smith rises up and over Spurs big man
Tiago Splitter
for a nasty one-handed dunk.
HIGHLIGHT REEL PART TWO:
Here's Splitter's attempt at revenge, a two-handed dunk in transition that was completely unnecessary because the clock was set to run out. Splitter violated the NBA rule of "no unnecessary shooting if the opposition agrees not to foul or play defense" and karma got the best of him. Splitter went crashing to the floor after the uncontested dunk attempt, landing hard on his backside. The good news: no injury was sustained during the course of this blooper.
FINAL THOUGHT:
The Carmelo Anthony saga is driving everyone a little nuts, but leave it to his Nuggets teammate J.R. Smith to find a funny side.
Quoted by NBA.com
, Smith said the Nuggets give Anthony some grief: "We ask him, 'What are you gonna look like in a Nets uniform?,' How cold it's going to be out there. What (city) he's gonna end up in? He could be playing for some team in Alaska."