Philadelphia 76ers guard Lou Williams has released a rap freestyle. Posted by Ben Golliver.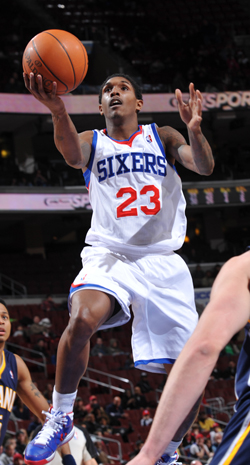 *
WARNING
:
CONTENT INCLUDES PROFANITIES AND MAY BE OBJECTIONABLE TO SOME READERS.
*
Who could forget Jewelz,
Allen Iverson
's rapping moniker, and the
giant mess it caused back
in 2000 when A.I. recorded a song called "40 Bars" that included language that made NBA commisioner David Stern blush?
More than a decade later, and history is repeating itself: a 76ers guard has released a profanity-laced rap song. Philadelphia's Lou Williams raps for roughly 20 bars in his "Imma Boss" freestyle that's
posted on his YouTube account
, although the profanities have been bleeped out to protect innocent ears.
Williams' subject matter is familiar. His topics include: visiting his old neighborhood, driving in his old car, seeing his old girlfriend, sleeping with his old girlfriend, reflecting on his playing time and former lack of playing time and how he has received a lot more attention now that he is playing rather than sitting on the bench, listing the size of his NBA game checks, how rich he is, how young he was when he first became rich, how he isn't interested in settling down to start a family (instead preferring to play the field), how he makes more money than his rivals, how the money his rivals make is laughable to him, and how inauthentic his rivals are.
Here are the transcribed lyrics (as close as possible).
I be ridin in my old hood, but i'm in my old whip /
picking up my old *****, heard that was your new ***** /
you be bringing cash out, my money never use it /
because you gonna keep her fly, that ***** I abuse it /
I came to Philly not asking for no favors /
ain't accepting handouts, no sugars from my neighbors /
remember me bench riding, I get that tick now /
now these bandwagon ****** on my **** now /
thank God, all these games I done played /
$60k a game, all this money I done made /
I made my first million before I ever got laid /
I was only seventeen ain't that some **** now look at me, look at me /
if you see me, be like, "Ew, Lou Will /
I be looking at em, Ew, cheap thrill /
I take what I can get because if they could they will /
I just **** em, I don't love 'em, I leave 'em oh well /
***** I'm a boss, I get cake, you making money? give me a break /
you just a lame, you ****** hating /
ya homeys they rhyme but it's because they fake
Here's the video.
Williams has a natural delivery and certainly doesn't lack confidence. The reviews posted on YouTube are split. One commenter noted, "Keep playing ball ... it ain't meant to happen" while another noted that, "you rap better than Allen Iverson."
Williams' Sixers teammate, guard
Evan Turner
,
wrote on Twitter
, "Shoutout to my boy Lou Williams for killin that 'Imma Boss' freestyle." I'm not sure if an endorsement from Turner helps or hurts one's street credibility, but I digress.
Another YouTube user reflected, "I'd be makin' tracks too if my team kept losin'." Entering Monday, Williams and the Sixers were 16-23, on pace to make the playoffs as the Eastern Conference's No. 8 seed.