LeBron James makes an animated series based on himself, Blake Griffin gets his technical foul rescinded and is called boring, Charles Barkley does the Dougie dance, and a whole lot more. Posted by Ben Golliver.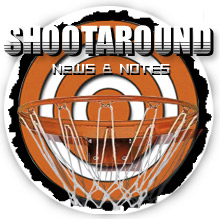 The New York Times reports that there will be a new web-based animation series on LeBronJames.com starring "The LeBrons," the four different versions of himself crafted in the Nike commercials. James, the Miami Heat forward, says the series will help him pursue his childhood dream of being a superhero. "I think everybody, even grown-ups now, today all wish they could be a superhero. I definitely had that imagination of, like, wow, it would be great to look over a city and take down the bad guys. Absolutely, I had those visions."
Remember that fight between the Lakers and the Los Angeles Clippers we mentioned yesterday? The NBA league office rescinded the technical fouls and ejections given to Ron Artest and Blake Griffin. The LA Times with the details, saying Artest will turn the found money into hamburgers. "I could've bought 10,000 In-N-Out Burgers. I rather would've done that than give it away. I'm going to get 10 burgers [after Monday's game]. I love In-N-Out. It's addicting. It's the only reason I'm here in L.A. If it wasn't for In-N-Out Burger, I probably would've gone to Memphis or something."
After his Orlando Magic lost to the Celtics in Boston on Monday night, WEEI reports that Dwight Howard told reporters, "The matchup is awesome," said Howard, tongue firmly planted in cheek. "He won the victory tonight, but we will win the war." He, of course, is Shaquille O'Neal.
John Wall asked to be fined by coach Flip Saunders when he sulks, according to the Washington Post, so that he can turn himself into a more effective team leader.
Thunder forward Jeff Green left impressed by the Lakers, according to NewsOk.com. "They're playing a lot better right now. They've got their rhythm. They're the champions. They know when to turn it on."
The LA Times says Blake Griffin is a boring interview. His response: "I didn't know I was boring until I was told I was boring.''
Detroit Pistons rookie center Greg Monroe, who started slow this season, had a career-high 16 points against the Dallas Mavericks on Monday. The Detroit News writes that teammate Tayshaun Prince was impressed. "Over the last three games, Greg has done a great job coming out and starting us off in the first couple minutes of the third quarter, getting some rebounds on both ends," said Prince. "Young fella's been playing great for us."
Yahoo! Sports believes the New Jersey Nets are losing face in their pursuit of Carmelo Anthony. "The Nets are behaving in a most desperate way and trying too hard to validate Prokhorov's relevance in the sport. Anthony treats the Nets like the unattractive girl he refuses to tell his friends he's seeing on the side. She walks past in the lunch room, tosses him a smile and 'Melo tells his friends he hasn't an idea why she keeps doing that."