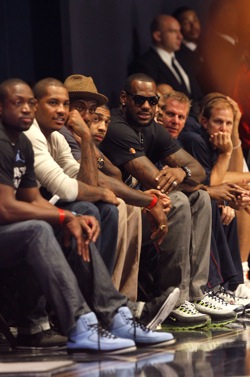 Posted by Royce Young
Carmelo Anthony
spoke to Sports Illustrated recently
for a piece that's set to be in this week's issue.
And guess what Carmelo was asked about. Not his favorite winter accessory items, which is a shame because I really want to know.
Anthony said he talks to
Chris Paul
,
Dwyane Wade
,
Kobe Bryant
and
LeBron James
. But Melo isn't letting their ways of doing things influence him, most specifically LeBron. Melo said, "I would never go about it the way LeBron did it. If he could do it all over again, he wouldn't do it that way-he would do it a totally different way, I can guarantee you that."
The most interesting part to me though, is what LeBron reportedly said to Carmelo at his wedding. A lot was made about Chris Paul's toast where he talked about coming to New York to form a big three with Melo and
Amar'e Stoudemire
, but there was another interesting thing said.
What has gone unreported is that the scene was set by James, who on his way into the wedding was jeered by New Yorkers for shunning the Knicks two nights earlier during the live telecast of The Decision. 'If you want any chance against us in Miami,' he joked to Anthony, 'you'd better team up with Stoud in New York.'"

That was most definitely a joke from LeBron, but I'm sure it's stuck in Carmelo's mind. Anthony has talked a lot about how he wants to win a title and is going to go where he feels he has that chance. Denver has been a good team the past five years and by all appearances, will continue to be good. But Carmelo doesn't feel like the
Nuggets
have the weapons to get over the edge. He probably feels like he needs another star next to him. Like Amar'e. So maybe that joke has hung with Melo during this.
Which makes you of course wonder about what New Jersey has to offer. There's no star there waiting to play alongside Carmelo. Just
Brook Lopez
. So when people say Melo would have to be sold on the
Nets
' plan, it kind of starts making more and more sense.
Melo reiterated the goals he has for himself again, saying that his main ambition is to win a championship. But interestingly, he has a few other things on his mind. The article says that Melo wants to "presumably improve his Q rating," move closer to home (he was born in Brooklyn and raised in Baltimore) and last but obviously not least, he wants to cash in big time. He was asked if it's important for him to sign the three-year $65 million extension before a potential July lockout and Anthony said, "That's my goal."
This man has a lot of goals.
Melo said he fully believes that he'll be traded by the Feb. 24 trade deadline. It looked like things were tilting for a deal to be done this week, but again, we might be watching the talk
Heat
up only to fizzle out. But Feb. 24 is just a little over a month away. Hang in there.