Posted by F&R Staff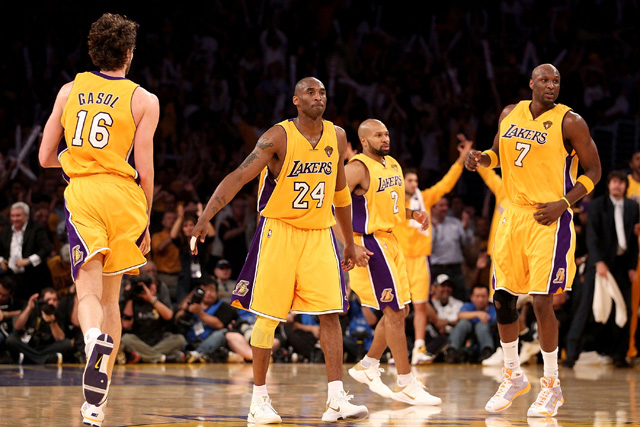 41 down, 41 to go. Approximately. We're at roughly the halfway mark of the season, one that's been interesting, at least. The
Heat
have at times severely disappointed, then significantly impressed us. The
Celtics
have looked invincible when healthy, but haven't stayed healthy. The
Lakers
have looked dominant when focused, downright silly when not. We've got a long way to go before the second season begins, but already we've had the emergence of
Blake Griffin
, a massive trade by the
Magic
to try and prop their window open, the fall of the
Suns
, and half the Blazers have seemingly been injured. Here then is our progress report for the Western Conference at mid-season. Tables correspond to our
empirical predictions Ben Golliver
compiled preseason.
PACIFIC DIVISION
Los Angeles Lakers:
Meet the new Lakers, same as the old Lakers. This L.A. team has shown the same tendencies to completely come apart at the seams and breeze through the motions as they have in seasons past. You'll remember this team from their underwhelming performance against the
Rockets
in 2009 (which they won), and during long stretches last season (in which they grabbed the number one seed and won the title). No team has perfect focus and intensity for 82 games, it's too much of a grind. But when the Lakers come apart, they melt down in truly disappointing fashion. But when they're on? There isn't a more fearsome team in the West. All signs point towards a return to the Finals for the Lakeshow, but expect there to be some more disappointing performances along the way.
Grade: A-
Phoenix Suns:
Behold the end of a contender. It happens to every team. It happened to Detroit, it happened to Cleveland, and it's happened to the Suns. Now the talk is all about
Steve Nash
and his future in Phoenix. No one wants to see Nash spend the end of his career on a non-contender, his talents wasted. Yet the Suns have been adamant about not trading him. With free agent signing
Josh Childress
a bust, and other signing
Hedo Turkoglu
shipped off in the Orlando trade for fading
Vince Carter
(fading more than usual that is), the Suns have little hope for keeping pace in the playoff race. But Alvin Gentry has managed to surprise everyone during his time as coach, and maybe he has enough to make a run in the second half. For now, the Suns have failed expectations.
Grade: C-
Golden State Warriors:
The Warriors started off looking pretty decent, with
Monta Ellis
playing at an All-Star level, more efficiently and more in the flow of the offense than in years prior. But the early season success quickly turned into a very Warriors-like season. David Lee suffered a gruesome elbow injury, and the return of the vacant defense that has marked the identity of the squad for years reared its ugly head again. The Warriors sit just four games back of the playoffs, and are on pace for at least a 34-win season, an eight win improvement over last year, but not what the team was hoping for in its first under new owners Joe Lacob and Peter Guber. But hey, at least
Andris Biedrins
has regressed! Wait, that's not good.
Grade: D+
Los Angeles Clippers:
What a difference one guy can make. After coming back from a broken patella he suffered in preseason last year, prompting talk of the Clipper curse striking again, Blake Griffin is nothing short of a phenomenon. We
feel Griffin is an All-Star
, and not just a dunker, but to be clear, he is an amazing dunker. And the mental impact his jams have on the opponents is clear, as more and more teams try and get physical with Griffin to get him off the rim, to no avail. That's the story of the Clippers this season.
Eric Bledsoe
has been a nice surprise, Al Farouq Aminu looks like a much better pick than people thought initially,
DeAndre Jordan
looks like a legitimate starting center in this league, and Vinny Del Negro's improved after a horrific start. But folks who claim that
Baron Davis
can be a difference maker because of a few weeks of solid play need to remain wary. Davis can check out at any point, physically or mentally, and relying on him is not a sound strategy for success. The Clippers are a longshot to make the playoffs, and aren't even on pace to dramatically improve over last year's 29 wins. But they're relevant again, thanks to Griffin. And that's enough to make this season a success.
Grade: C+
Sacramento Kings:
Yeesh, that went south in a hurry.
Tyreke Evans
with a heavy regression, Paul Westphal having seemingly lost the club, a dramatic fall across the board on both sides of the ball in terms of production, and serious chemistry issues with the new building block,
DeMarcus Cousins
. The Kings are arguably the biggest failure in the league this season, and Cleveland has been down by 50 at one point. There's little to salvage of this broken season, and Paul Westphal's job seems like the furthest item on that improbable list. Massive fail. Oh, but at least there's huge turmoil over the future of the team in the city and they have dour prospects at a new arena.
Grade: F-
NORTHWEST DIVISION
Utah Jazz: The San Antonio Spurs are always considered the model franchise but Utah is right there in so many ways, except the rings. Solid ownership group, solid management, best coach in the league, top-shelf point guard and solid big men. The cast around Deron Williams, Paul Millsap and Al Jefferson doesn't matter much, and while Jazz fans think their team has left a few wins on the table this season, they're still sitting pretty at 27-14, in the heart of the chase for homecourt advantage.
Grade: A-
Oklahoma City Thunder: When the most talked about deficiency on your team is the loss of an assistant coach, life is pretty good. Boasting the NBA's most voluminous (and by far the most consistent) scorer in Kevin Durant and one of the most unguardable players in the league in Russell Westbrook, coach Scottie Brooks and company are making due just fine, even if they've taken a step back defensively. Look for Durant to turn it up another notch down the stretch this season. They'll win a playoff series.
Grade: A-
Denver Nuggets: What's better: to have your franchise swiftly beheaded during summer free agency or slowly tortured to death over the course of months of rumors and reported trades? Denver has chosen door No. 2 and it has torpedoed their season, with forward Carmelo Anthony being booed on his homecourt and questions being asked daily about the future of the franchise. To make matters worse, J.R. Smith is waiting in the wings to be the franchise centerpiece when Anthony is finally moved. Good luck with that.
Grade: C
Portland Trail Blazers: No team has had their ceiling cave in faster and harder than the Trail Blazers, who could be legit contenders for a top two playoff seed if Brandon Roy and Greg Oden were healthy. Instead, both went under the knife for knee surgeries yet again this season; Oden is done for the year and Roy is out indefinitely, but hoping for a late-season return. The Blazers will probably resist blowing it up for as long as possible, but that only means they'll be putting a product on the court that is no better than slightly above average. Big production from LaMarcus Aldridge over the last two months has provided a sliver of hope, but the organization and fanbase aren't kidding themselves.
Grade: C-
Minnesota Timberwolves: They are who we thought they were: terrible, and perhaps the least cohesive team in the league. Kevin Love and Michael Beasley get their numbers, Darko Milicic has progressed some, but this is sort of like an AAU team that went on a European vacation, returning with multiple identities, but, in the end, no real identity. A thin backcourt, lack of potency on the wings, problems limiting turnovers, and non-existent team defense make this project unsalvageable in the short-term. With cap space to spare, the Wolves should considering taking on some money/talent to provide their fans a truly competitive product.
Grade: F

SOUTHWEST DIVISION
Dallas Mavericks: All was wonderful in Big D as the Mavericks stormed out to a beautiful 24-5 record. Then Dirk Nowitzki injured his knee against Oklahoma City. Then Caron Butler hurt his against the Raptors. And the Mavs quickly went from Finals contender to a team looking for answers.



The Mavs have gone 2-9 since the injuries struck but more importantly have gone from a major player in the title chase to a major question mark. Things can get straightened out for sure, but at the mid-way point, there's more concern in Dallas than was expected.



Grade: B+

San Antonio Spurs:

If you ask Gregg Popovich, he'll tell you the Spurs could've and should've been better through the first half of the season. In fact, he would probably zero in on one specific possession from a November game against the Wolves that's still bothering him.



But San Antonio sits atop the league halfway through with a glistening 35-6 record, the best start ever in franchise history. The interesting thing though is that it's not about Tim Duncan. He's third and even fourth fiddle on this team some nights. It's about Manu Ginobili's playmaking, Tony Parker's scoring, Richard Jefferson's shooting and the emergence of stellar role players throughout the roster. So all things considered Coach Pop, 35-6 really isn't all that bad.

Grade: A+

Memphis Grizzlies: T

he past few weeks have kind of saved the Grizzlies from an otherwise disappointing start. Memphis has finally put together a quality three weeks of play and as a result, has launched itself into the race for eighth during the second half of the season.



Not to say a heavy amount of questions don't linger over the team though. There's the thing to be solved about O.J. Mayo, the issue with Tony Allen and Mayo and potentially about the job security of Lionel Hollins. The team is still young and still building, but the second half definitely needs to show some steps forward.

Grade: C+

New Orleans Hornets:

A hot start that had the Hornets as the best team in basketball, then a major lull that had people wondering if they'd even make the playoffs. Ups and downs for the Hornets is the storyline so far this season.





The team has come together recently, winning five straight. And don't look now, but they're hot on the tail of the Mavericks for second in the division. The Hornets are a team walking a tight rope and appear poised for a drop-off at any moment, but as it stands now, they're in the top half of the West and primed to make a postseason run.



Grade: B

Houston Rockets: If disappointment has a name in the West, it's the Rockets. Injuries to Yao Ming and Aaron Brooks derailed things early, but even when both were healthy Houston got off to a bad 1-6 start. Then as things finally started looking up as Brooks returned and the team got to 16-16, the Rockets immediately lost five straight.



It still seems like this team has the ability to make noise in the playoff chase down the stretch because the players are there. But a disappointing first half to the season may doom them in the end.



Grade: D+
-----------------
Note: The charts refer to extrapolated wins/losses data for the entire season. If a team is "+2", it is on pace to win 2 more games than the aggregate of six pre-season projection models predicted. If a team is "-5", it is on pace to win 5 less games than the aggregate predicted.