Posted by F&R Staff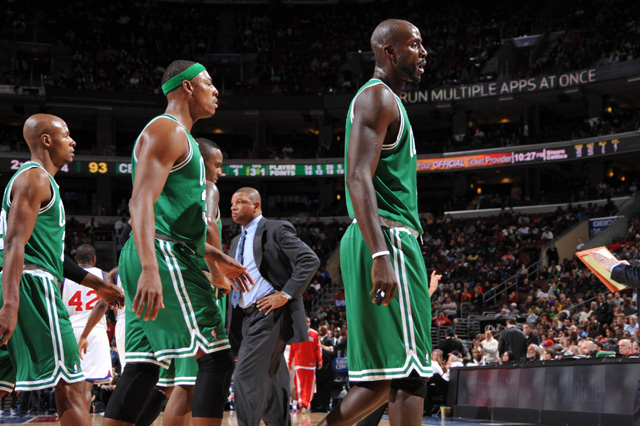 41 down, 41 to go. Approximately. We're at roughly the halfway mark of the season, one that's been interesting, at least. The Heat have at times severely disappointed, then significantly impressed us. The Celtics have looked invincible when healthy, but haven't stayed healthy. The Lakers have looked dominant when focused, downright silly when not. We've got a long way to go before the second season begins, but already we've had the emergence of Blake Griffin

, a massive trade by the Magic to try and prop their window open, the fall of the Suns , and half the Blazers have seemingly been injured. Here then is our progress report for the Eastern Conference at mid-season.
All grades are against reasonable preseason expectations for performance. In other words, each team is on its own curve.
Tables correspond to our empirical predictions Ben Golliver compiled preseason.
Central Division
Chicago Bulls: Once the Bulls finally get to completely play together, I've got a feeling they're going to be really good. First it was Carlos Boozer who was out with a broken wrist after losing a fight with his gym bag. Now it's Joakim Noah who had to have thumb surgery.

Regardless of battling through major injuries to major pieces, Chicago still sits comfortably atop the Central and is set up to make a strong run to a top four seed in the East. Derrick Rose has back up the MVP candidate talk, Luol Deng is scoring the ball relatively well and Tom Thibadeau is living up to his reputation, installing a swarming, nasty defensive system in Chicago. The Bulls have been pretty good thus far, but once they finally get to play together, they could be really good.

Grade: A

Indiana Pacers: For a time, it was looking like the Pacers were going to become a dark horse team in the East. Much like the Thunder from a year ago, Indiana was defending extremely well and playing behind a rising scorer in Danny Granger.

Then Granger went into a huge funk, the defense slipped and players like Roy Hibbert and Darren Collison stopped playing at a high level. The Pacers are still in the playoff discussion in the East because the conference is so bad in the bottom half that the Wizards are only four and half games out of eighth. Right now, the Pacers hold the spot, but unless they get back to the way they played in November, they'll be slipping back to the lottery for another season.

Grade: C

Milwaukee Bucks: Such high hopes for the Bucks, who surprised people last season with a run to the postseason that made us all Fear the Deer. For the first half of this year, injuries, somewhat inconsistent defense and a horrific offense have doomed the Bucks.

The Bucks are dead last in points per game and 29th in offensive efficiency. They've won the games they have because of a still quality defense, but the Bucks just can't score. With Brandon Jennings being injured and Andrew Bogut not entirely healthy, Milwaukee just doesn't have anyone to turn to for points. They're in the hunt for the postseason, but it was supposed to be about more than that this season. This team had visions of competing for the division, but the first half has been a total disappointment.

Grade: D

Detroit Pistons: The Pistons have been a tough team to figure out halfway through. Some nights, they look like a legitimate playoff team. Other nights, you fear for another Malace at the Palace but this one coming only between the Pistons.

Coach John Kuester is on the verge of losing his team and with trade rumors hanging over the heads of their core players, the Pistons haven't been able to fully commit to a rebuilding youth movement. You can't say the Pistons have disappointed anyone in the first half because there really weren't expectations, but they've played some ugly basketball to this point.

Grade: C-

Cleveland Cavaliers: Can I just leave this one blank? The Cavs aren't going to finish with the worst record of all time because they've (somehow) already gotten eight wins. But really, at this point, can you see them winning another game? It's kind of hard to.

After LeBron ravaged them and plundered Cleveland on his way out of town, the Cavs have been dismal. They have a league-worst negative 11.3 point differential. They've dropped 13 straight and 23 of 24. They lost their best player for the season in Anderson Varejao. Their semi-good players have basically quit. They aren't just losing, but they're losing in epic ways. A 55-point loss to the Lakers? A total destruction at the hands of the Nuggets? Something tells me though that we haven't seen the worst yet.

Grade: F-
Atlantic Division
Boston: Often short-handed and forced to mix-and-match the rotation due to so many old parts, Boston's rock-solid core four ensures that the Celtics remain head and shoulders above the rest of this division. Boston has out-performed expectations even without forward Kevin Garnett for a few weeks and without center Kendrick Perkins for the entire season. The big (only?) question down the stretch: how seamlessly can Perkins be worked back into the rotation and back into playoff shape? Other than that, besides general questions about health, it's fairly clear sailing. The Celtics look poised for another long playoff run and a much-anticipated collision with the Miami Heat.
Grade: A
New York Knicks: Amar'e Stoudemire gets the headlines and rookie Landry Fields gets the online "underrated" love, but what about Wilson Chandler, who has upped his production this season and provided that much needed complementary threat that keeps opposing defenses working? Chandler, and point guard Raymond Felton, who predictably blossomed once he left the Charlotte Bobcats aka NBA Siberia, give the Knicks a well-rounded feel that wasn't expected entering the season. They'll be a really tough playoff out, whether they make a move to bolster their talent base before the trade deadline or not.
Grade: A-

Philadelphia: The Sixers have pushed into the playoff picture in recent weeks after a rocky start, owing to nice young pieces like Jrue Holiday and Lou Williams turning it up. This group is at least a year away (maybe five), though, as rookie Evan Turner isn't providing nearly the lift that was expected and needed. The trade question has hung over Andre Iguodala all season, but Philly can't move him if they stay on target for the postseason, can they?
Grade: C

Toronto: Well, they're not as bad as Cleveland, so that's something. Year one post-Bosh has gone about as well as could have been expected, but it's still been extremely frustrating. No defense is being played, the young talent on the wings doesn't complement franchise big man Andrea Bargnani all that well, and injuries up and down the roster have limited the team's depth. I'm not sure where hope is coming from with this group, and a lottery trip is all but assured. Toronto seems like a likely candidate to be an active trade player come draft season, as they look to find an identity among their mismatched pieces.
Grade: D

New Jersey: The embodiment of desperate, the Nets have hitched their wagon to the hope of landing a mid-tier star in Carmelo Anthony, liquidating Terrence Williams and alienating half their roster in the process. Needless to say, that plan hasn't turned into wins. If New Jersey is somehow unable to land Anthony they'll have plenty of flexibility this offseason, but there's an awful lot of ugly basketball to be played between now and then.
Grade: F
Southeast Division:
Miami Heat: How does a team win 20 of 22 games, reach the halfway mark only two games back of the top spot in the East, overcome tremendous criticism and still wind up feeling like a disappointment? Easy. They set themselves up with too much talk, too much bluster, too much pyro. You bring that many fireworks you better have the fire to go with that... nevermind. The Heat started out highly mediocre for their talent level, then rebounded significantly, then tailed off again when injuries took their toll. In the middle of that we've had a season full of Heat Stroke, as we've gotten everything from karmic reference to Chris Bosh asking people not to play hard. The Heat are a contender, of that we're sure. But this team was set to reach historic heights. Instead, they seem poised for yet another opportunity for people to cheer their collective failures and throw the word ego around too lightly.
Grade: B
Atlanta Hawks: Almost no one knows the Hawks are currently fourth in the Eastern Conference, on pace to beat their mark of 53 wins last season. The Hawks didn't lose any big components, and questions about Jamal Crawford's contract have faded into the background. Al Horford has been brilliant this season, even moreso than last year when he was an All-Star. Yes, Joe Johnson's contract is a gigantic anchor on their future, and they'll slip underwater eventually. For now, though, the Hawks just keep winning games and flying under the radar.
Grade: A-
Orlando Magic: We almost feel like there should be two separate grades for the Magic. One for their original team going into the season, and one for the team after their huge trade in December. Before the trade, the Magic looked like the window had been firmly shut, as Vince Carter was a shell of his former self, Rashard Lewis was creating a logjam at power forward as both Ryan Anderson and Brandon Bass had earned minutes, and their backcourt was too thin. After the trade, they went on a tear, before running into a brick wall against the Celtics. Still, a home win over the C's on Christmas has to give them confidence that they're on the right track back to contender-status. The biggest surprise? Hedo Turkoglu, who's been a huge part of the resurgence. For now, we'll split the difference between the two versions of the Magic.
Grade: B+
Charlotte Bobcats: The Bobcats plummeted in the start of the season, as the fragile framework that had held the team together crumbled without Raymond Felton at point. Even with D.J. Augustin playing brilliantly compared to expectations, the Bobcats were terrible, forcing majority owner Michael Jordan to fire Larry Brown and bring in interim coach Paul Silas. Things seemed to be going better for a while, but three straight losses and the Bobcats seem to be on pace again to win fewer than 35 games at least. It's time for a massive rebuilding project in Charlotte, the question is whether Jordan will finally pull the trigger before the deadline.
Grade: D-
Washington Wizards: So much for John Wall winning rookie of the year. Gilbert Arenas was moved and Wall seems to be struggling significantly with injuries. Andray Blatche has been a problem, Josh Howard is hurt, again, Yi Jianlian is Yi Jianlian, and the Wizards look a lot like they did last year. But JaVale McGee and the emergence of Nick Young provide hope alongside Wall when healthy. It's a rebuilding year for the Wizards. But they better get to the building part with a little more urgency.
Grade: D
-----------------
Note : The charts refer to extrapolated wins/losses data for the entire season. If a team is "+2", it is on pace to win 2 more games than the aggregate of six pre-season projection models predicted. If a team is "-5", it is on pace to win 5 less games than the aggregate predicted.