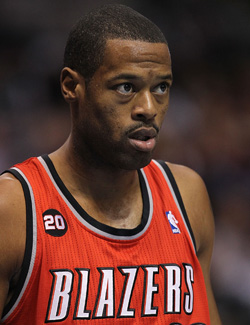 Marcus Camby to have surgery on left knee to repair torn mensicus. No timeline set for return.
Posted by Matt Moore
It would be funny, if it weren't so sad.
The Blazers have another player undergoing surgery. Yes, knee surgery. No, it is not
Greg Oden
, he just had it. No, it is not
Brandon Roy
. That was last week. No, it is not
Joel Przybilla
, thankfully. That was last year. Twice.
No, this time it's Marcus Camby
who the Oregonian reports
will undergo surgery to repair a torn meniscus in his left knee. The Blazers
soon confirmed the report
. A timetable for Camby's return has not been released yet.
Should the surgery be to remove the meniscus, Camby could be out much longer, but there has been no indication that the surgery is for removal and not repair. Camby's known as a pretty tough customer so a return ahead of schedule isn't out of the question, but Camby's also made noise for several years about heading towards retirement. You have to wonder if he's getting worn out of these kinds of things. An average return for a meniscus repair is 4-6 weeks.
In the meantime, the Blazers will suffer through their fifth player undergoing knee surgery this season. Five. Oden, Roy, rookie
Elliot Williams
, Jeff Pendergraph, and now Camby. This is the third center this season, fourth to miss some time this season due to knee surgery (Przybilla missing significant time in the beginning). This has moved beyond ridiculous. It's into patently absurd. It's ludicrous. There's a book somewhere in spending some time with Phoenix's training staff, and then spending some time with the Blazers' training staff. Oden having a bad string of luck is one thing, as is Roy's condition which was pre-existing to when he was drafted. But five players in the span of a season undergoing knee surgery? Is the ground made of adamantium there? Is the water poisoned with anti-knee fungus? Is it just the freaking rain?
Somewhere along the way, the pattern becomes such that you have to be concerned about it long-term. In the meantime, Nate McMillan will have to somehow find a way to rally the troops in the face of even more adversity. This for a team that two seasons ago looked set to become a title contender.
Like I said, it'd be funny if it weren't so sad.