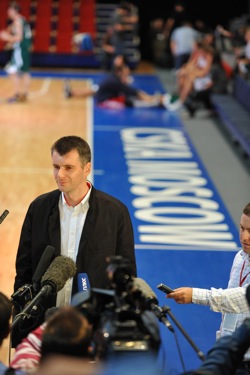 Posted by Royce Young
The
Nets
were probably hoping to have
Carmelo Anthony
gift-wrapped and waiting for Mikhail Prokhorov when the Russian billionaire owner arrived in New Jersey today.
But that's not happening unless someone gets on the phone like right now and gets to work. What the Nets are planning for is that elusive meeting. Finally.
According to the New York Daily News,
Denver has OK'd a meeting between the Nets and the
Nuggets
superstar and that could lead the way to a three-team deal that has been in various stages of negotiations for the past few weeks.
"If the meeting hasn't already taken place," as the Daily News puts it, then it's supposed to happen over the next few days. The Nets and Prokhorov's PR people had no comment on the time frame for the meeting.
During this "meeting," the Nets owner and other minority shareholders (like Jay Z), hope to persuade Anthony to commit long-term to the Nets.
According to the AP,
even if Melo doesn't commit long-term, the Nets may go ahead with the trade, but scale it back somewhat. They would hope to bring in Melo and use the next few months to persuade him into staying. That was kind of Denver's plan too, but it doesn't appear to be working.
One other item of interest: If the Nets fail to get Anthony, the Nets won't just close shop. The
Jazz
's
Andrei Kirilenko
is a free agent this summer and knows Prokhorov well enough that the two have dinner in Russia when Kirilenko goes home every summer. According to the Daily News, Kirilenko is on the team's radar as a potential player and front-office official.
So while he's not exactly Carmelo Anthony, the Nets have a Plan B. Even if it's just Andrei Kirilenko.