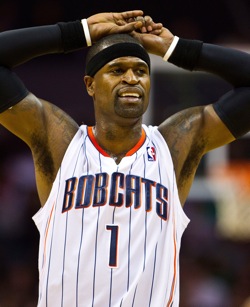 Posted by Royce Young
The
Mavericks
are just 2-9 since
Caron Butler
went down with a season-ending injury. They've fallen from the bell of the West, to a team with question marks all over the place.
So it's obvious that the Mavs would be interested in making a deal before the deadline to get back on track. And while they're looking,
a report from ESPN Dallas says nothing is "imminent."
However, the Mavericks are still shopping, even if they aren't ready to buy. ESPN Dallas reports that the Mavs have interest in dealing with Charlotte, but not for
Gerald Wallace
. With Wallace's big contract still holding two more seasons, the Mavs are more interested in the versatile playmaking abiltiy of
Stephen Jackson
. The
Bobcats
are probably a five-game losing streak away from blowing things up, but with them playing better and after a big win over Chicago, Charlotte might be looking to hang on for a little while.
Jackson isn't the perfect fit though, as he has two years and almost $20 million left too. Plus, he's 33 years old. But he'd be easier to pry away from the Bobcats than Wallace and Dallas isn't looking to give up a whole lot right now.
Another player the Mavs reportedly have their eyes on is
O.J. Mayo
. However, Mayo is said to be off limits according to GM Chris Wallace (though that's probably not true). But what that means is that the
Grizzlies
probably want a lot more for Mayo than anyone would be willing to give up.
Finally, the Mavs would be willing to take on
Al Harrington
's four-year, $20.3 million contract if that meant they were getting
Carmelo Anthony
for the next few months, the report says. And if not Anthony, the Mavs would settle for Nene. But this scenario looks pretty unlikely.
Dallas is probably going to have its hand forced at some point to make a move. Caron Butler says he'll be back for the playoffs, but that's no guarantee. And with the way team is struggling, something might need to be done soon in order to keep pace atop the West. The Mavs know their window won't be open for long and Mark Cuban has never been shy about making a move for the now. So I would expect Dallas to be players in something by the trade deadline.