Carmelo Anthony's representatives reportedly pursuing move to Chicago with Nets trade stalling.
Posted by Matt Moore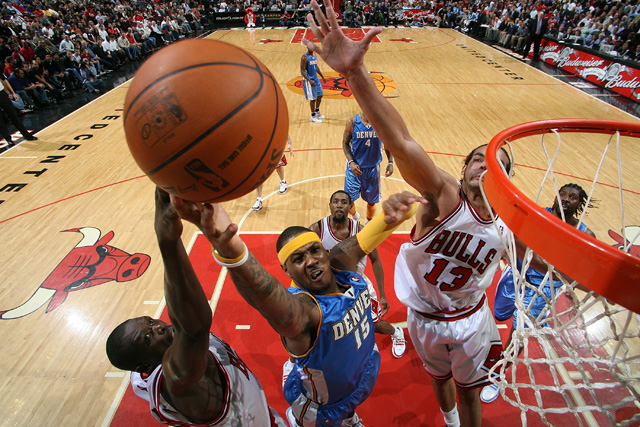 Make. It. Stop.
Okay, now that our obligatory request to end the Carmelo Anthony debacle that even has us weary is through, we can move on. Yahoo! Sports today weaves the tangled web of a swing back towards Chicago in the Anthony talks. Yes, again.
Nevertheless, William Wesley – Worldwide Wes – is expected to travel to Chicago for Bulls games on Thursday and Saturday against the Dallas Mavericks and Cleveland Cavaliers, a source said. Wesley unsuccessfully pushed LeBron Jamesnotes to sign with the Bulls as a free agent, and now has an interest in Anthony ending up there. Wesley represents Bulls coach Tom Thibodeau for CAA.
via
Anthony's agents courting Bulls - NBA - Yahoo! Sports
.
I'm going to go ahead and go out on a limb and predict this isn't going to work out well for Melo's men. The Bulls aren't giving up
Joakim Noah
. They're not. There was discussion of it earlier this season, and the Bulls responded by locking up Noah with a big extension. The Bulls have looked every bit like a team on the rise towards true contention, so blowing that nucleus up in order to bring in a poor defender with a high usage rate who wouldn't work well in their system doesn't seem like the kind of thing Chicago's interested in doing, no matter how tempting getting another star in Chicago may be.
As for their offense, the biggest reason to push for this trade, it's not unfixable. Were the Bulls to ever be healthy again, they have pieces in place to compete offensively, and that's without any significant upgrades through free agency or picks in the years to come, both options which would be cheaper and provide more flexibility than Anthony would. The offense isn't great for the Bulls, but their defense is so good, they're still in a position to compete. But the biggest reason not to do this trade rests with Rose.
Derrick Rose
is a superstar. Not a star. A superstar. Hes' the next great Chicago athlete, and he'll have this team in contention every year he's healthy. What's more, he's from Chicago, and has given every indication that he has zero interest in every changing teams. Melo, on the other hand, is leaving a playoff team, again,
a playoff team
in search of greener endorsement pastures. Why would the Bulls want to take the spotlight away from Rose, which would happen should Melo relocate to the lake shore, in order to push it to someone who may just bolt again at the first sign of trouble?
The Bulls have every reason to be aggressive in pursuing upgrades to make them the best team they can be. There's no reason to sit back and hope the window stays open. But Melo's agents are pursuing an agenda that only helps Melo. And given that Chicago's management, after years of questionable decisions, has managed to start making the right ones, it's hard to see a reversal towards short-sighted greed in advance of this trade opportunity.
Of course, with the Nets
backing out
, that could change this dramatically should Denver's price go down. And round and round the wheel keeps turning.